Title: Starting From Scratch
Series: Starting From, #2
Author: Lane Hayes
Narrator: Michael Pauley
Publisher: Lane Hayes
Original Release Date: October 17, 2019
Heat Level: 4 - Lots of Sex
Pairing: Male/Male
Length
:
8 hrs and 22 mins
Genre: Romance, Bisexual, Enemies to lovers, Rock and roll, Hurt-comfort, Opposites attract
Synopsis
Charlie Rourke is an ultra fabulous human whirlwind on a mission to launch the next biggest band in the world. However, he might have taken on more than he could handle when he signed on to manage Zero. Promoting a rock band and finding gigs shouldn't be hard. They're a talented group with a ton of star power. If Charlie can find the right record label, he's sure he can help them get to the next level. The only problem is the skater boy slash bassist with a quirky sense of humor. He's annoying and silly, and he's exactly Charlie's type. Except he's straight.
Ky Baldwin isn't afraid to switch things up. He loves a challenge as much as anyone, but Charlie doesn't make things easy. Zero's manager is a force of nature with a razor sharp tongue, a quick wit, and a no-nonsense attitude. Ky can't stop thinking about him. Winning over Charlie becomes Ky's pet project. But when the ice between them thaws, neither is prepared for the intensity of going from enemies to lovers. They'll have to decide if they're willing to start from scratch and take a chance on the unexpected.
Listen to a Sample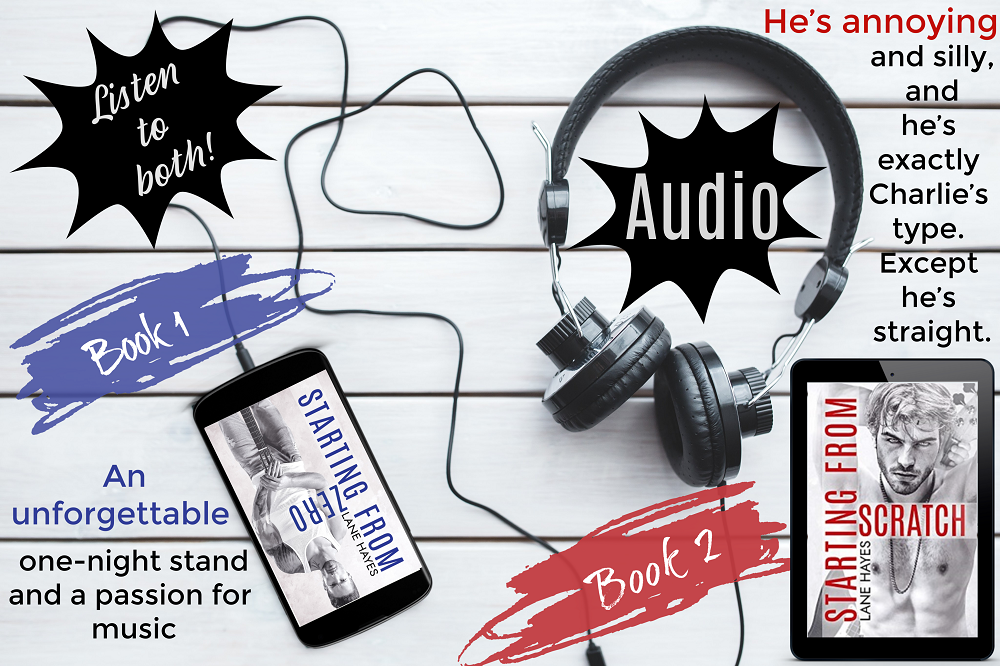 Meet the Author
Lane Hayes is grateful to finally be doing what she loves best. Writing full-time! It's no secret Lane loves a good romance novel. An avid reader from an early age, she has always been drawn to well-told love story with beautifully written characters. These days she prefers the leading roles to both be men. Lane discovered the M/M genre a few years ago and was instantly hooked. Her debut novel was a 2013 Rainbow Award finalist and subsequent books have received Honorable Mentions, and won First Prize in the 2016 and 2017 Rainbow Awards. She loves red wine, chocolate and travel (in no particular order). Lane lives in Southern California with her amazing husband in a newly empty nest.
Meet the Narrator
Michael has well over 50 audio book titles currently available for purchase on Audible.com. He is versed in multiple styles and genres including fiction (novels and short stories) ranging from romance to science fiction to crime dramas to thrillers; business strategy books; health and wellness books; and even an occasional children's book.
Fans of Michael's narration are welcome to follow him on social media including
Facebook
,
Twitter
,
Instagram
,
YouTube
, and
SoundCloud
.
If you are interested in working with Michael to produce your next audio book, you can contact him directly at
acx@michaelpauley.info
Giveaway