Title: Blood Is Forever
Author: Asta Idonea
Publisher: NineStar Press
Release Date: June 3, 2019
Heat Level: 3 - Some Sex
Pairing: Male/Male
Length: 74500
Genre: Paranormal, LGBT, fantasy, Fae, vampires, witches, half-breed, demons, homicide, law enforcement

Synopsis
As a fae-vampire hybrid, scorned by all, Holden's life has never been easy. The one bright spot is his job testing blood at supernatural crime scenes. It's routine work, until the day he finds a victim he can't read.
When one murder becomes two, and then three, it's clear there's a serial killer on the loose—one with a penchant for collecting hearts. Finding the bad guy could cement Holden's career, but he's drawing a blank. And it doesn't help that the expert his boss calls in to assist him is the man Holden's been crushing on for years.
With lives hanging in the balance, Holden and Val must solve the case before the killer strikes again. But will they come out with their hearts still intact?
Excerpt
Blood Is Forever
Asta Idonea © 2019
All Rights Reserved
Chapter One
"What's a filthy halfen doing here?"
Holden heard the comment. He could scarce avoid doing so, seeing as he possessed enhanced hearing and the speaker had made no attempt to lower his voice. The fae onlooker didn't know the half of it. Clearly he based his judgment of Holden's heritage solely on Holden's less-than-regal stature—a good few inches shorter than most fae—rather than having recognised him outright. That was a rare occurrence. Had he known the truth about Holden's lineage, the remark would have been all the more scathing.
Halfens—fae half-breeds—were considered the lowest of the low, ranked even below shifters in the supernatural community. Most halfens were fae-human hybrids. As a fae-vampire, Holden was as much of a social outcast as it was possible to be. The fae were notoriously snooty. For one of them to have had a liaison with a human was bad enough, but a vampire… It still amazed Holden that his father had committed such an act.
Cadeyrn was an important figure in the community—a leader in every sense of the word—and socially conscious in the extreme. Still, rumour had it Holden's mother had been a rare beauty. Holden couldn't confirm that. She'd died giving birth to him. Fae children were generally larger than vampire offspring, and her spine had snapped under the pressure of his delivery. With her passing, Cadeyrn had effectively shaken off the stigma attached to their brief encounter. The residue had stuck to Holden instead.
The fae who'd noted his presence spat on the ground near his feet as he passed, and a familiar icy fist closed around Holden's heart. Nevertheless, he acted as he always did in such situations: he made no response, pretending he hadn't heard anything, thankful for the dark sunglasses hiding his eyes. If he'd learned anything over the years, it was that he needed to maintain a thick skin, or at least the semblance of it. Such pretence wasn't his forte, however. So, keeping his gaze fixed on his destination, he forged as speedy a path as possible through the small crowd gathered around the gate and approached the house.
Upon reaching the front door, he nodded to the officer stationed by the entrance, whipped out his credentials, and waved the plastic ID card under the man's nose. The fae officer scanned them in silence, before raising the invisible strip of tape blocking the doorway, granting Holden access to the building.
From the outside, the Victorian terrace had no distinguishing features. A standard exemplar of its era, it sat in the middle of a long row of identical properties—former middle-class family homes long since converted into small inner-city apartments, for which young professionals had to pay top dollar. This particular example officially consisted of four flats. In truth, there were five.
Holden headed straight for the stairs and ascended to the third floor. To human eyes, this was the last living area, with only roof space above, but Holden could see the shimmer in the wall that indicated a hidden doorway. He passed through the gap, shaking off the tingle the magical barrier sent dancing over his skin, and mounted the small flight of steps to the fifth apartment. The door at the top stood open, and when Holden crossed the threshold, he entered a room bustling with activity.
Fae and witches hurried back and forth. Some wore full protective suits. Others were dressed normally, save for their softly scrunching shoe covers. Two photographers snapped away, their constant camera flashes blinding in their intensity. Meanwhile, several of their colleagues deposited a variety of items into plastic evidence bags, then whisked said bags away. Three witches were casting a spell to search surfaces for any latent fingerprints not belonging to the apartment's owner, while one of the fae glided behind them, retrieving and cataloguing those found. All in all, it was a pretty standard crime scene.
Holden removed his sunglasses and stowed them in his jacket pocket. Then he grabbed some shoe covers from the box near the door and tugged them over his worn trainers. Now suitably attired, he looked for his superior amidst the organised chaos. In the end, Owens spotted him first.
"Holden!"
Her bark cut through the noise, and everyone paused. They looked at Owens and then at Holden. Most swiftly returned to their respective tasks, but a few pairs of eyes lingered on him. He didn't recognise the faces attached to those keen gazes, but he could sense these strangers assessing him, judging him…and finding him wanting.
"Holden Fay, quit daydreaming and get your arse over here."
At the command, Holden squared his shoulders and marched across the room, pretending, as best he could, not to notice those who still observed him.
Owens pursed her dark-berry-coloured lips as he approached, hands planted firmly on her ample hips. "What the hell took you so fucking long? I summoned you forty minutes ago. We had to hold the scene for you."
"I'm sorry, Captain, but it's peak hour. You know London traffic." Actually, he'd had a pretty good run, all things considered, and after parking three streets down, he'd used a supernatural burst of speed to sprint the rest of the way—an action that always took a lot out of him.
"Oh yes. I'd forgotten about your…that you can't use portals." Owens had the decency to look momentarily abashed at having brought up one of Holden's numerous defects. "Anyway, you're here now." She chose to move swiftly past the elephant in the room, for which Holden was grateful, and he hastened to follow suit.
"What do we have?"
"Come see for yourself."
Holden trailed Owens through the lounge and into the bedroom. The sight that met his eyes there threatened to turn his stomach. However, he steeled himself and swallowed back the bile. This was his job, after all, and with his background and disadvantages, he was lucky to have any form of employment. He couldn't afford to lose his position with the Fellowship's Investigations Team because of a little blood. Not that the blood was the issue. He'd visited plenty of gory scenes, and being part vampire, spilled blood was liable to make him hungry rather than nauseated. No, it was the precision, the clear intent, which made this tableau so gruelling.
The body lay upon the bed, atop the sheets. Despite the look of terror permanently burned into his eyes, the victim otherwise projected a semblance of calm. There was minimal creasing to the sheets beneath him, suggesting there hadn't been a struggle. No one had forced him onto the bed. No one had thrown him there. It appeared as if he'd lain down of his own volition. His arms rested neat and straight by his sides, and there was no sign of any defensive action, which was strange, given the gaping hole in his chest.
"He's a witch?"
Holden waited for Owens's nod, but he didn't really need the clarification. What else could the victim be? His appearance ruled out him being fae, and a vampire would have turned to dust, or at least a pile of bones. That only left a human or a witch, and a human wouldn't know of this room's existence. They couldn't even detect the flow of the earth's energy through their own bodies, let alone recognise focused magic.
He moved closer and assessed the damage. The heart was gone. It was a clean job though. He was tempted to call it clinical. That, in itself, was unusual. When Owens called him to murder scenes, it tended to be a blood bath. He was used to that; it made sense. Maybe a newly turned vampire had lost control while feeding. Or someone had crossed paths with a shifter turned feral. Those deaths were understandable—a case of instinct outweighing control. A momentary madness. A mistake. This, on the other hand, had a worrisome aura of premeditation about it.
"Coven clash?" he postulated. It was an odd way for a witch to kill one of their fellow practitioners, but he could see no other obvious explanation.
Owens approached and studied the victim over Holden's shoulder. Although she seemed cool and collected on the outside, Holden could hear her elevated pulse. She, too, was on edge.
"Not as far as we can tell. I spoke on the phone to all nine coven leaders while I waited for you. None reported any particular tensions, aside from the normal intercoven rivalries. They certainly knew of nothing that would prompt anyone to commit murder." She stepped back. "Can you get anything from the blood? That's why we called you here, after all. We can do the standard detective work on our own."
Holden was glad he had his back to Owens, because he flinched at the slight.
Technically, he was only on the Fellowship's payroll as a subcontractor. There were no regular hours or weekly paycheques. They simply called him as and when they needed him. That was fine, but he yearned for more. He wanted to be a proper member of the team. He wanted to be a detective and see a case through from start to finish. Although he didn't possess the full abilities of either fae or vampire, there were things he could do, and given the opportunity, he'd work his arse off. However, he knew it was a pipe dream. With his genetic heritage, most people wanted nothing to do with him, and those who tolerated his presence only did so out of respect for his father. In all his thirty-four years, he'd known only two exceptions, and one of those was Owens.
Of all the members of the Investigations Team, Owens treated him the best. He would even go so far as to say she liked him. However, that only made her occasional, unintentional slips hurt all the more. He knew he wouldn't have been her first choice for this job, for example. Given the option, she'd have called Drake, Claude, or even Samuel, rather than him, considering the unexpected nature of the crime. But blood work was extremely time sensitive, and since the pure-blood vampires wouldn't rise for at least another three hours, she had to make do with him. So, he'd better get to work.
The blood had dripped down the man's sides and pooled beneath his torso. Holden reached out and dipped his index finger into it. It was already congealing, but he collected a good enough sample for his purposes and raised the reddened digit to his lips. At first contact, he screwed up his face. No vampire liked the taste of dead blood. It wasn't dangerous in small quantities like this, but it was far from pleasant. Nevertheless, Holden brushed aside his disgust and closed his eyes, focusing on his task.
Blood was a powerful tool in the right hands. It held memories—flashes of the life of the one in whose veins it had dwelt. Those memories faded after a time, though, once the heart stopped beating. Hence the need for a swift assessment. Holden rolled the blood on his tongue, seeking a connection. At this point, images usually bombarded him, coming so thick and fast it took concentration and practice to sort through them, separating ancient memories from recent events, picking out the important details from amidst the mundane. It was a skill, and he was adept. But on this occasion, there was nothing but blackness.
He opened his eyes and shook his head. "I'm sorry, Captain. There's nothing there. We're too late."
"But Philips estimated the time of death as two hours ago. Even with your delayed arrival, the blood should still be good."
"I don't know what to tell you." He shuffled, forcing himself to maintain eye contact despite his strong inclination to hang his head and look away. "The memories weren't even faint. They weren't there at all."
It was not the first time this had happened to him, and it wouldn't be the last. If the blood was too old, it was too old. There was nothing he could do about it. Nonetheless, Holden hated these failures. Neither Drake nor Claude could have extracted anything more from the sample, yet he had the greater need to prove himself. Lack of success clung more persistently to him than it did to them.
Owens swore loudly and virulently. "Very well. If you can't do anything to help, you may as well go. We'll wrap up the scene and head back to the office."
She turned and barked orders at the rest of her staff, completing the abrupt dismissal, and Holden finally allowed himself to sink into the slumped-shoulder posture that had been pressing down upon him for several minutes.
Although free to leave, and keen to extract himself from under the sea of condemning gazes, Holden hovered a moment longer and looked back down at the body. Aside from the lack of a struggle and the surgical precision of the cuts, there was something else odd about the scene. If he could just put his finger on it…
The body retrieval crew shoved past, and their jostling broke Holden's concentration. While they set about preparing the body for transportation, Holden spun on his heel and left. No one stopped his egress. No one called out a goodbye. He knew he was likely being paranoid, but he could have sworn he felt a wave of relief wash over the room when he rid the apartment of his presence.
Outside, the crowd from earlier had dispersed. Either they'd grown bored at the lack of action or members of the Investigations Team had moved them along, anxious to avoid drawing human attention. It was none of his concern either way.
The summer sunlight seemed at odds with the macabre scene he'd witnessed, and following the gloom indoors, its brightness hurt his sensitive eyes, so he whipped out his sunglasses. At the same time, he noticed he was still wearing the shoe covers. These he toed off, kicking them into the air and catching them. Not wanting to return indoors to dispose of them, he shoved them into the back pocket of his jeans.
A glance at his watch revealed that barely half an hour had passed since his arrival. Before Owens's call, he'd planned on enjoying a quiet night at home, curled up with a good book, but now he had other ideas. A drink was in order—preferably three or four. With his vampiric metabolism, it took at least that many to feel even the faintest buzz. Alcohol alone was never sufficient, however. There was something else he needed too.
Holden retrieved his phone and knocked out a text message as he mooched back to his car. It was still too early in the day to expect an answer, but he didn't doubt a favourable response when one finally came. Raoul had never once let him down. He would not be spending the night alone.
Purchase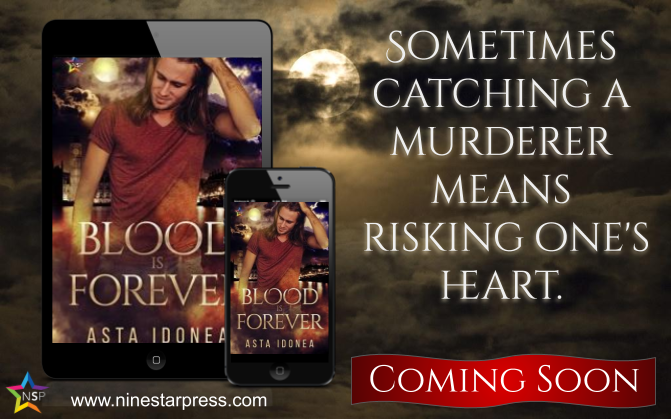 Meet the Author
Asta Idonea (aka Nicki J Markus) was born in England but now lives in Adelaide, South Australia. She has loved both reading and writing from a young age and is also a keen linguist, having studied several foreign languages.
Asta launched her writing career in 2011 and divides her efforts not only between MM and mainstream works but also between traditional and indie publishing. Her works span the genres, from paranormal to historical and from contemporary to fantasy. It just depends what story and which characters spring into her mind!
As a day job, Asta works as a freelance editor and proofreader, and in her spare time she enjoys music, theater, cinema, photography, and sketching. She also loves history, folklore and mythology, pen-palling, and travel, all of which have provided plenty of inspiration for her writing. She is never found too far from her much-loved library/music room.
Giveaway
a Rafflecopter giveaway