Title: A Noble Cause
Series: Legacy, Book Two
Author: Mickie B. Ashling
Publisher: NineStar Press
Release Date: August 26, 2019
Heat Level: 3 - Some Sex
Pairing: Male/Male
Length: 64500
Genre: Fantasy, NineStar Press, LGBT, fantasy, mpreg, magic, royalty, gay, age-gap, men with children, intersex, demons, wedding, kilts

Synopsis
Having achieved his heart's desire at a high price, Prince Colin of Sendorra and his fiancé, Nobel Prize winner Alain de Gris, find themselves at the epicenter of a twisted plot. Colin's cousin, Drake Bradford, and his grandmother Maura, the high priestess of the Bradford Coven, have conspired for years to bring down the royal family.
Resembling his cousin in features and coloring, Drake, the soulless rat, has been using their similarities—and black magic—to his advantage. Princess Charlotte, Colin's ex-girlfriend, is unwittingly drawn into the feud, blissfully unaware she's been sleeping with an impostor.
In this anticipated sequel to A Tangled Legacy, Colin and Alain, along with their fearless group of witches, ghosts, and familiars, embark on a convoluted journey to save the people they love and ensure the royal succession.
Excerpt
Charlie's head lolled back against the leather seat of the BMW as Drake Bradford, still in his disguise as Prince Colin of Sendorra, navigated the crowded streets of Biarritz before merging onto the toll road heading toward Paris. He'd cast a sleeping spell on his "fiancé" to avoid the interrogation he was sure would follow once she realized they were on their way out of town. He needed privacy to confer with Granny Maura to formulate a new plan while the royals were busy drawing up countermeasures to deal with him.
Drake grew impatient as Granny's phone rang and rang. Like many seniors, she didn't have her mobile at her fingertips, defeating the whole purpose of instant availability. Finally, after the seventh ring, she picked up.
"It's about bloody time."
"I couldn't find my phone," she replied apologetically.
"We've already talked about this on several occasions," Drake scolded. "Put it on your kitchen counter so you know where to look."
"What's the problem?" she asked dismissively.
"I've managed to kill off the dowager and Colin in one fell swoop."
"They should have stayed out of my business," Drake defended.
"Tell me exactly what happened," Maura ordered tersely.
"Plans started to unravel the minute Colin showed up unexpectedly. He wasn't due home for another couple of days, and Charlie and I would have announced our engagement by then. There was nothing he could have done to stop us from marrying, but then it all went to shit."
"Of course she is," Drake snapped. "She's mine and I have every intention of marrying her. Plus, she's carrying my child."
"Don't come to Paris," Maura advised. "It's the first place they'll look."
"Let me find you an apartment in Prague."
"It's a good place to hide in plain sight."
"Get back to me with details once you've made the arrangements."
"It might take a few hours."
He grunted. "Doesn't matter, Granny. This is going to be one long-ass drive."
Drake gunned the engine and put the car on cruise control the minute he was on the toll road. He was still seething at having been foiled—by an incompetent witch, no less—and wasn't the least bit sorry he'd destroyed a dynasty. The only downside to this turn of events was figuring out how to deal with Charlie and her parents. He'd have to use her pregnancy and his powers of persuasion to convince her he was a far better choice than Colin could ever be. Granted, he didn't have a kingdom to lay at her feet, but he and Charlie had great chemistry, and the girl melted into a pliant fool the minute he laid hands on her. He'd keep her so sexed up she wouldn't dream of rejecting him.
His phone rang an hour later, and he was stunned by Maura's news.
Drake slammed on the brakes, and the car fishtailed to a stop on the shoulder, narrowly avoiding a six-car pileup.
"Impossible!" he thundered. "I stopped his heart."
"Isabelle Simon and her son managed to bring him back to life," she deadpanned. "The coven has already received a lengthy email demanding retribution."
"We'll have a war on our hands, Drake. I'm not sure I can get the other members to stand by our side when your actions were completely unjustified."
"Fuck the coven," Drake snarled. "I don't want their help. And need I remind you this was your plan all along? What about the dowager?"
"So, you got what you wanted," Drake pointed out malevolently. He sucked in air through his clenched teeth and gripped the steering wheel. "Now it's my turn, and you'd better back me up."
"I'll see you in Prague."
Purchase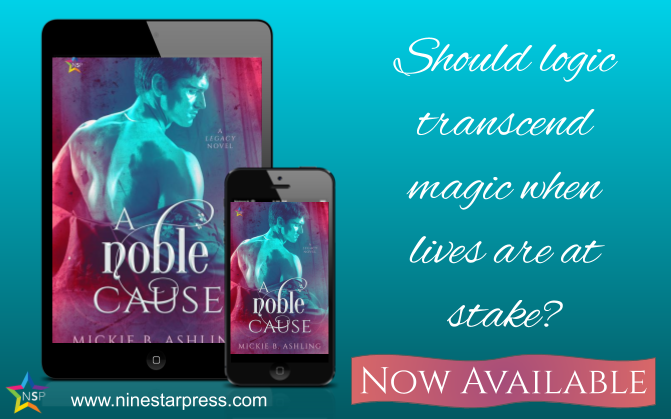 Meet the Author
Mickie B. Ashling is the pseudonym of a multifaceted woman who is a product of her upbringing in multiple cultures, having lived in Japan, the Philippines, Spain, and the Middle East. Fluent in three languages, she's a citizen of the world and an interesting mixture of East and West. A little bit of this and a lot of that have brought a unique touch to her literary voice she could never learn from textbooks.
By the time Mickie discovered her talent for writing, real life got in the way, and the business of raising four sons took priority. With the advent of e-publishing—and the inevitable emptying nest—dreams of becoming a published writer were resurrected and fulfilled in April 2009.
Mickie discovered gay romance in 2002 and continues to draw inspiration from the LGBTQA community and their ongoing struggle to find equality and happiness in this oftentimes skewed and intolerant world. Her award-winning novels have been called "gut-wrenching, daring, and thought provoking." She admits to being an angst queen and making her characters work damn hard for their happy endings.
Giveaway