Title: Better Than Beginnings, A Better Than Good Short Story Collection
Series: Better Than Stories, 5
Author: Lane Hayes
Publisher: Lane Hayes
Release Date: January 30, 2020
Heat Level: 4 - Lots of Sex
Pairing: Male/Male
Length: 105000
Genre: Romance, Bisexual, Established Couple, MM Romance, White Collar, Gay romance

Synopsis
Matt Sullivan knows he met someone special the night he spots the sexy man on the dance floor. However, he doesn't know his life is about to change forever. First of all, Matt is straight. Okay, maybe not, but he doesn't think falling in love and spending the rest of his life with a hotheaded, unapologetically fabulous diva is an option.
Aaron Mendez is confident, smart, and very comfortable in his skin. He knows what he wants and isn't afraid to go for it. And though he might have reservations about falling for someone newly out of the closet, no one has ever looked at Aaron the way Matt does.
Navigating a relationship has its challenges, but both Matt and Aaron are willing to deal with difficult parents, holiday blues, and learning curves. They know their happy ever after is worth fighting for and that true love is better than good.
*This collection of short stories follows the lives of Matt and Aaron from my first novel, Better Than Good. The end of one chapter is the beginning of a whole new story from ordinary everyday life to an engagement, a wedding, and more. This collection is dedicated to Matt and Aaron fans and those who believe that the real love story happens after the first "I love you".
Excerpt
Better Than Candy from Better Than Beginnings, A Better Than Good Short Story Collection
Aaron gave me the silent treatment for a while, and I have to admit I didn't mind the quiet. For an hour anyway. Then I did mind.
"Come on. You can't not talk to me all day."
"Oh, so now you want to talk?" he huffed.
"Yeah. Let's talk. Come closer so I can touch you too. I'll be good." I perched on one of the stools at the island in our kitchen and swiveled to face the hockey game on the flat-screen across the room.
"I don't trust you," he grumbled, crossing his arms and glaring at me.
"Come on. I'll behave. Give me a kiss. Please?" I gave him my best "You can trust me" look.
Aaron sighed dramatically before shuffling over to stand between my thighs. Directly in the way of the hockey game.
"Are you going to make it up to me? Or are you going to watch the Steelers?"
"Okay, funny guy, let's start with a little re-education. The Steelers are a football team." I pulled him into my arms and squeezed him tightly, burrowing my chin into his shoulder and blowing raspberries on his neck. "Sadly, their season is over, but thankfully it's basketball and hockey season now. You're currently blocking a hockey game, but not my Penguins, so I'll let you off the hook."
"Excuse me?" he huffed irritably.
"You heard me. If you'd like to take some time to make up for my hour in hell, I will more than gladly join you…on the sofa, in the bedroom, or even in that green guest bathroom with the cool new towels we just bought. What's it gonna be?" I held him even tighter and tickled his sides.
He laughed, his eyes twinkling with restored humor as he stepped out of my reach and peeled off his T-shirt.
"First of all, the color is eucalyptus, not green. Hockey and basketball are only marginally better than football and…" He furrowed his brow when I smacked his ass for sheer blasphemy. "And, you are making up with me. Not the other way around. You behaved like a five-year-old. I had no idea you were such a brat."
"You promised not to torture me, but you did anyway. Even that lady at the store agreed you should have gone alone," I singsonged.
He stepped between my thighs and rested his arms over my shoulders.
"She called you my husband. That was kind of funny."
"Yeah." I kissed his nose and pulled him closer to squeeze his ass.
"It didn't freak you out?"
"Nope. And you wanna know why?"
" 'Cause I'm gonna marry you someday."
"I just do. You're my person. And even though I can think of about ten other things I'd rather do with you, going shopping wasn't the worst 'cause I still got to be with you."
Aaron bit his bottom lip and nodded. "Oh, that was good, Matty. I almost can't remember why I'm mad at you."
"You're not mad. You love me. You just don't know it yet." I scooped him over my shoulder in a fireman's hold before he could protest. "No more talking. You have some making up to do."
I carried him into our bedroom and tossed him onto the bed before kicking off my shoes and pulling my sweater over my head. Aaron undressed quickly, then folded the duvet back and got on all fours in the middle of the bed. I gulped when he shook his ass in invitation. Fuck, he was sexy. I stepped out of my jeans and boxer briefs in a hurry and immediately reached for my cock. I was so hard it hurt. I approached the bed and kneeled behind him, running my fingers along his spine and over the curve of his hips.
Aaron turned to give me a seductive look. "What are you waiting for?"
"Sometimes I can't believe I'm here with you."
He frowned before straightening and scooting toward me, wrapping his arms around my neck. "But here we are. And I think this is the way it's supposed to be," he whispered.
I brushed my lips over his and closed my eyes for a moment. "Mine."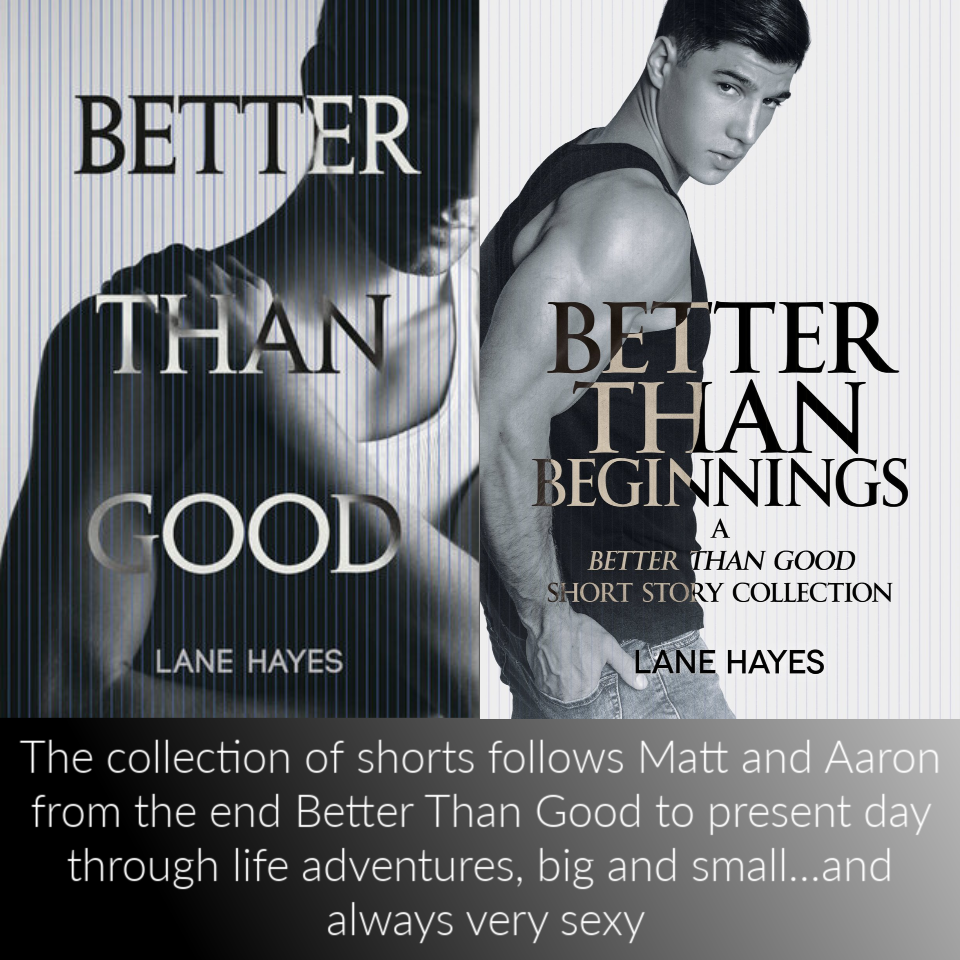 BETTER THAN GOOD is on sale for just 99 cents. Available HERE.
Other books in the Better Than series. Get them all HERE!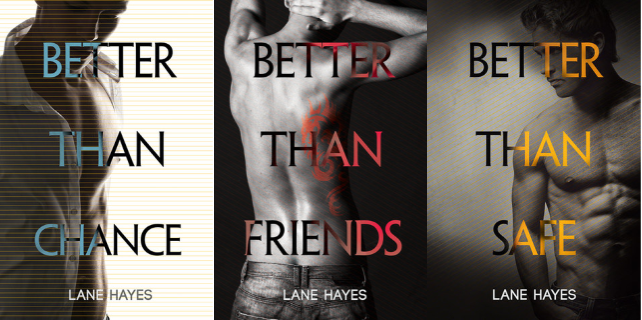 Meet the Author
Lane Hayes is grateful to finally be doing what she loves best. Writing full-time! It's no secret Lane loves a good romance novel. An avid reader from an early age, she has always been drawn to well-told love story with beautifully written characters. These days she prefers the leading roles to both be men. Lane discovered the M/M genre a few years ago and was instantly hooked. Her debut novel was a 2013 Rainbow Award finalist and subsequent books have received Honorable Mentions, and were winners in the 2016, 2017, and 2018-2019 Rainbow Awards. She loves red wine, chocolate and travel (in no particular order). Lane lives in Southern California with her amazing husband in a newly empty nest.
Giveaway