Title: A Family Affair
Author: Rob Loveless
Publisher: NineStar Press
Release Date: April 27, 2020
Heat Level: 3 - Some Sex
Pairing: Male/Male
Length: 50100
Genre: Contemporary, bisexual, college, gay, HFN, holiday season, jealousy, new adult, revenge, unrequited love

Synopsis
It's been said that if you love someone, set them free. If they come back they're yours; if they don't they never were. But what does it mean when they come back into your life—as your sibling's significant other?
At twenty-five years old, Cal Adams has only ever truly loved one man, the one who broke his heart three years earlier—Andrew Hall. Since then, he has searched for meaningful relationships but cannot smolder the flames of the past his family remains unaware of.
As the holiday season approaches, Cal's younger sister, Claire, brings her boyfriend home to meet the family. When she arrives, Cal is shocked to meet her boyfriend, who is none other than Andrew. In a darkly humorous tale, Cal decides to show his ex what he missed out on.
Excerpt
Cal Adams sat at his desk and shuffled through some papers as he eyed the clock: 5:47 p.m. A mixture of excitement and anxiety churned uneasily in his stomach as the seconds hand ticked away. In thirteen minutes, he would relinquish his work responsibilities and prepare for what was sure to be a big night. A few days earlier, Cal's parents had called to invite him to dinner Friday night for a special occasion—his baby sister would be home from college for the weekend.
Claire Adams was a senior in college and only three and a half years younger than Cal, yet he couldn't help but refer to her as his baby sister; perhaps that was part of being a big brother. As Claire's older brother and only sibling, Cal was a bit on edge about that night's family dinner. After all, Claire wasn't just coming home to visit; she was bringing along her new boyfriend to meet the family.
Cal tuned out the clinking of weight machines and the grunts of fatigued gym patrons as he sat in his office and concentrated on the circumstance at hand. His sister hadn't had a boyfriend meet their parents since her junior year of high school, which meant this was serious. Cal and Claire had become very close in recent years, but he had not heard much about this boyfriend, including his name. Claire had always been one to maintain a low profile on social media, and only acknowledged she was "in a relationship" a month or so ago—without posting any photos. From what Cal had been able to gather from his phone calls with her, Claire and her boyfriend had only been seeing each other for about six months. So they hadn't been together that long. Still, this was serious, which worried Cal a bit.
Being the big brother, Cal was somewhat protective of his sister, but he was happy for Claire, and he was sure he'd love her boyfriend. After all, Claire had a good head on her shoulders. However, this whole situation made Cal uneasy since it made him reflect on his own lack of success in the relationship department.
As the eldest sibling, Cal had always anticipated he would be the first to settle down. However, being twenty-five years old and never having been in a serious relationship, he often felt frustrated and unfulfilled—like something was missing in his life.
It wasn't that Cal was undateable. On the contrary, he was quite attractive, with medium-length, dark-brown hair, piercing gray eyes, sharp features, and a lean build. He was successful, independent, and had an easygoing, fun-loving personality. In fact, he went on plenty of dates, but nothing ever seemed to pan out. Either the chemistry wasn't there or things just didn't advance. Cal hadn't experienced genuine feelings for anyone since—
"Hey," a friendly voice chimed, which snapped Cal's attention back to work. A petite young woman with a pretty, freckled face and long, ginger tresses appeared at his office door.
"Hi, Sophie," Cal greeted. "Getting ready to head out?"
"Yeah, my six o'clock canceled on me," she informed him.
Sophie was a personal trainer at the gym Cal managed and also one of his closest friends. Sophie was a year his senior, and the two had been friends since childhood. They knew everything about each other's lives: the good, the not-so-good, and the bad.
Cal glanced at the clock: nearly six now. "I'll be leaving in a few too."
"Any fun weekend plans?" Sophie asked.
"Well, I have that family dinner tonight, but I'm not sure if I would call it fun."
"Ohh, that's right!" she said. "Claire's bringing home the boyfriend. What do you know about him?"
"Nothing," Cal replied. "Honestly, I don't even think my parents know much about him."
"So this is a pretty big deal," Sophie stated. "It sounds serious."
"Yeah, it does," he sighed with a lack of enthusiasm before he shut off his computer.
"Uh oh, sounds like someone's big brother senses are tingling," she teased.
"It's not that. I'm sure this guy is great. And I'm happy for Claire, I really am. But I'm twenty-five years old and—"
"Cal, you can't keep thinking like that. You're young, and you'll find someone."
"That's what all my friends say, but you guys are all in relationships," Cal countered. "You and Rich have been together for years."
"Believe me, you're gonna find someone. Soon. I'm sure of it," Sophie reassured him as she gave his arm a squeeze. "By the way, I forgot to ask, how did the date go with that guy last night?"
"Eh, it was fine…at first."
"At first?" she questioned.
"Yeah, I mean, he was cute. We just grabbed a coffee. And he seemed to have a good personality."
"He started talking about how he loves popping molly."
"Oh yeah. And then he told me Lana Del Rey's music makes him horny. Those were his exact words."
"What!" Sophie gasped in disbelief. "He did not!"
"I'm telling you I can't make this stuff up," Cal chuckled as he shook his head in disbelief. "And really, Lana Del Rey? I didn't know melancholic songs could get someone all hot and bothered."
"You're such a normal guy. How come you always find these crazies?"
"I don't know, I guess they're drawn to me," he joked. "But, in all seriousness, I hate these stupid dating apps. I wish I didn't have to use them, but I don't know how else to meet someone. Every time I do meet someone from the apps though, they're crazy or—"
"Or you don't feel the spark."
"No. At least not like I had with—"
"Hey"—Sophie interrupted in a soft voice—"it's been over three years."
"I know. I know," Cal stated. He stood from his desk and grabbed his charcoal peacoat. "And I'm over it—believe me—I am. I just get scared that—"
"Don't be. You'll have those feelings again. You'll find that spark."
"Yeah, I know," he sighed with a slight shrug before he hit the lights and left his office with Sophie. The two exited the gym in silence and were soon embraced by the crisp air of late November.
Purchase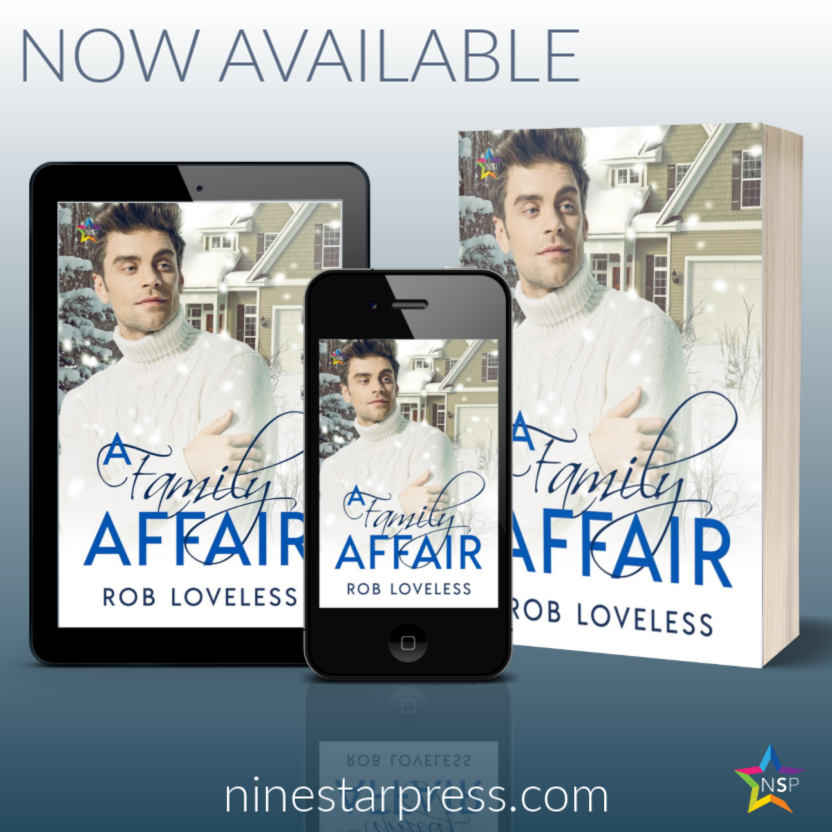 Meet the Author
Rob Loveless is a corporate communications professional, and currently resides in Pittsburgh, PA. He has been an avid reader and writer from a young age, being influenced by authors like J.K. Rowling and Dan Brown. When he's not working or writing, Rob enjoys being active, exploring what the Steel City has to offer, and traveling.
Giveaway