Title: Legally Wed
Author: Rick R. Reed
Publisher: NineStar Press
Release Date: April 27, 2020
Heat Level: 3 - Some Sex
Pairing: Male/Male
Length: 68600
Genre: Contemporary, elementary teacher, gay marriage, grief, Lake Union, men with pets, receptionist, romance, same-sex marriage, Seattle, second chances, Washington State, wedding planner

Synopsis
Love comes along when you least expect it.
That's what Duncan Taylor's sister, Scout, tells him. Scout has everything Duncan wants―a happy life with a wonderful husband. Now that Seattle has made gay marriage legal, Duncan knows he can have the same thing. But when he proposes to his boyfriend Tucker, he doesn't get the answer he hoped for. Tucker's refusal is another misstep in a long line of failed romances. Despairing, Duncan thinks of all the loving unions in his life―and how every one of them is straight. Maybe he could be happy, if not sexually compatible, with a woman. When zany, gay-man-loving Marilyn Samples waltzes into his life, he thinks he may have found his answer.
Determined to settle, Duncan forgets his sister's wisdom about love and begins planning a wedding with Marilyn. But life throws Duncan a curveball. When he meets wedding planner Peter Dalrymple, unexpected sparks ignite. Neither man knows how long he can resist his powerful attraction to the other. For sure, there's a wedding in the future. But whose?
Excerpt
Same-sex marriage had just become legal in Washington State, and Duncan Taylor didn't plan on wasting any time. He had been dating Tucker McBride for more than three years, and ever since the possibility of marriage had become more than just a pipe dream, it was all Duncan could think of. He thought of it as he gazed out the windows of his houseboat on Lake Union on days both sunny and gray (since it was late autumn, there were a lot more of the latter); he thought of it as he stood before his classroom of fourth graders at Cascade Elementary School. He thought of it when he woke up in the morning and before he fell asleep at night.
For Duncan, marriage was the peak, the happy ending, the icing on the cake, the culmination of one's heart's desire, a commitment of a lifetime, the joining of two souls. For Duncan, it was landing among the stars.
And for Duncan, who would turn thirty-eight on his next birthday, it was also something he had never dared dream would be possible for him.
Now, too excited to sleep, he was thinking about it—hard—once again. It was just past midnight on December 6, 2012, and the local TV news had preempted its regular programming to take viewers live to Seattle City Hall, where couples were forming a serpentine line to be among the first in the state to be issued their marriage licenses—couples who had also for far too long believed this right would be one they would never be afforded. Many clung close together to ward off the chill, but Duncan knew their reasons for canoodling went far deeper than that.
The mood, in spite of the darkness pressing in all around, was festive. There was a group serenading the couples in line, singing "Going to the Chapel." Champagne corks popped in the background. Laughter.
Duncan couldn't keep the smile off his face as he watched all the male-male and female-female couples in the line, their moods of jubilation, of love, of triumph, traveling through to him even here on his houseboat only a couple of miles north of downtown. Duncan wiped tears from his eyes as he saw not only the couples but also all the supporters, city workers, and volunteers who had crowded together outside city hall to wish the new couples well, to share in the happiness of the historic moment.
And then Duncan couldn't help it; he fell into all-out blubbering as the first couple to get their license emerged from city hall. Eighty-five-year-old Pete-e Petersen and her partner and soon-to-be-wife, Jane Abbott Lighty, were all smiles when a reporter asked them how they felt.
"We waited a long time. We've been together thirty-five years never thinking we'd get a legal marriage. Now I feel so joyous I can't hardly stand it," Pete-e said.
It was such a special moment, and it was all Duncan could do not to pick up the phone and call Tucker and casually say something like, "Hey honey, you want to get married?"
But he knew he had to wait even if patience was a virtue Duncan had in short supply. On Sunday, when the first marriages would take place, he planned on bringing Tucker to their favorite restaurant, an unpretentious little joint on Capitol Hill called Olympia Pizza. There, amid the darkened and—for them—romantic interior with the smells of garlic, basil, and tomato sauce surrounding them, Duncan would propose, saying something clever like:
"I'm thinking about changing my Facebook relationship status to 'engaged.' Would you mind?"
In his mind, Tucker would chuckle and then rub at the tuft of blond hair that grew from his chin, regarding Duncan with his dark-blue eyes. Duncan could see the flicker of the candle lighting up his man's features as he held the silence for a few moments, building the suspense. Then he would say something like, "I think I'll change mine too."
That would be one way it could play out—very twenty-first century.
Duncan would then imagine all his friends and family congratulating the newly minted fiancés with "Likes" and words of encouragement and shared happiness. Maybe he could get their waiter to take a picture of them, holding hands over a sausage and mushroom pie, right after the moment when they went from two guys dating to two guys anticipating…marriage.
Duncan found himself wiping yet another tear from his eye. Sunday was going to be perfect.
Purchase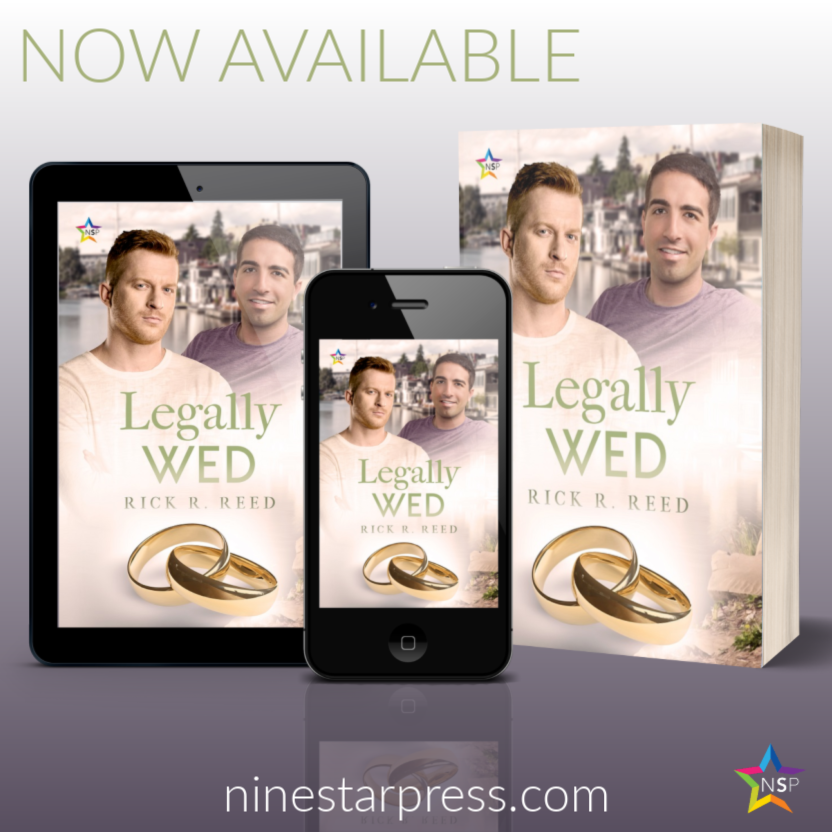 Meet the Author
Real Men. True Love. Rick R. Reed is an award-winning and bestselling author of more than fifty works of published fiction. He is a Lambda Literary Award finalist. Entertainment Weekly has described his work as "heartrending and sensitive." Lambda Literary has called him: "A writer that doesn't disappoint…" Find him at www.rickrreedreality.blogspot.com. Rick lives in Palm Springs, CA, with his husband, Bruce, and their fierce Chihuahua/Shiba Inu mix, Kodi.
Giveaway