Title: Cutting Cords
Series: Cutting Cords Series, Book One
Author: Mickie B. Ashling
Publisher: Self-Published
Release Date: 6/2/20
Heat Level: 4 - Lots of Sex
Pairing: Male/Male
Length: 63,525
Genre: Romance, Contemporary, bisexual, hurt-comfort, coming out, disability, cutting

Synopsis
Sloan Driscoll is a talented graphic artist but compared to his father and younger brother—all star athletes—he's never measured up. A lifetime of insecurity leads him down dark paths.
His childhood friend, Cole Fujiwara, a former major league pitcher, embodies all of Sloan's hidden aspirations. Cole is physically fit, attractive, intelligent, and successful. Seemingly perfect.
When Sloan shows up on Cole's NYC doorstep needing a place to stay, their reunion is anything but simple. Sloan has always been drawn to Cole, but now, even though there's a girlfriend on the periphery, the attraction seems mutual.
One night, inhibitions slip away. But both men are hiding a multitude of secrets. Salvation could be found within each other's arms. But only if they let it.

Cutting Cords is the first book in the Cutting Cords Series previously published by Dreamspinner Press. This series must be read in order and all four titles will be available by September 2020. HEA guaranteed at series end.
Content Warning: contains body image issues, drug use, cutting, and some BDSM elements.
Excerpt
The doors of the plane were shut; the engines revved and ready to go. I leaned back and plugged in my earphones, increasing the volume so I could hear nothing but Queen blaring out Bohemian Rhapsody. I loved their music, stage presence, and style. One summer, I even made the attempt to dress and talk like Freddie Mercury. It wasn't hard, since we had the same body type, not one ounce of fat anywhere. My little game was met with disapproval, so my outrageous persona went back into a compartment in my brain, along with all the other shocking thoughts that resided there.
The plane finally took off, almost in sync with Freddie's falsetto blaring in my ears. I removed my earplugs and unfastened the seat belt when the captain turned off the sign. It was time to go to the restroom and take care of business.
The light in the tiny bathroom cast a yellowish shade on my normally pale face. I stared at the mirror, trying to see if I looked any different since my haircut and my father's attempts to make me look respectable. Everything appeared the same; my hair was still a boring brown, my eyes an unremarkable shade of gray. My mouth was a bit too full and girly for Dad's taste, but there wasn't a damn thing he could do about it. I wondered how long it would take for my hair to grow out again. I hated the feel of cold air against my neck, although my tattoo was now clearly visible, the Queen logo, a testament to my devotion.
I started to strip, undoing the belt buckle and pushing down my jeans, past the ugly web of scars on my thighs. They were a constant reminder of my inner turmoil, a grim display in varying shades of hair-raising red. I stepped out of my pants and boxers simultaneously, leaving them bunched at my feet. Next off were the tight white briefs that had served its purpose—holding the sandwich bag with my stash in its hiding place near my crotch. I dumped the briefs into the wastebasket and pulled my jeans and boxers back on.
I opened the plastic baggy and inhaled the pungent aroma of the high-grade weed, wishing I had the guts to light up, but I knew my impulse would activate the smoke alarms and they'd be pounding on the door within minutes. So I popped a Xanax instead, a poor substitute, but certainly better than nothing.
I spent the rest of the flight in a hazy fog. Thanks to my age and the money in my pocket, I was able to buy a few drinks to add to my drug-induced high. I passed on the food, shaking my head at the flight attendant, but asked for more peanuts instead. I could almost hear my father's voice telling me to eat and not skip meals or I'd never gain weight, but I wasn't buying into his plan anymore. No amount of sustenance had ever worked to give me the kind of body I craved, so any time I was on my own, I ate whatever I wanted.
I knew I wasn't in California anymore as soon as the cabbie pulled up to the curb and looked me over suspiciously. "Need a ride?"
He was a brightly turbaned Indian who spoke passable English but seemed to have left his manners on another continent. I wasn't sure if it was the late hour or his job, but good cheer was in short supply right then. I was expected to haul my gear into the cab on my own. Cussing under my breath, I hefted the duffel with all my worldly possessions onto the seat beside me. "Can I smoke in here?" I asked as soon as we got going.
Pleasantly surprised, I pulled out the joint I'd rolled in the airport restroom and lit up, inhaling deeply, letting the smoke fill my lungs. The cabbie lifted an eyebrow as soon as he smelled the weed. In an instant, his demeanor changed, and he respectfully asked, "Would you be willing to share?"
I smirked and passed the joint through the opening in the glass.
He took a huge hit, bobbing his head in appreciation. "Good stuff, buddy."
"It better be for what it cost."
"Where are we headed?" the cabbie asked.
It was almost eleven by the time we stopped in front of Cole's apartment building, and after I handed over my money, I waited to see if the driver would help me with my bag since I'd shared my dope. Stupid thought. He sat there and checked his log sheet.
Fucking asshole. I didn't tip him.
I dragged my shit out of the cab and waited for the doorman to let me in. Apparently he'd gotten word of my arrival, and he actually helped me place my bag in the elevator and told me the apartment was on the tenth floor. When I arrived at my destination, I stabbed at the doorbell for several minutes before the door was yanked open by a guy who appeared ready to strangle me.
"Will you ease off the fucking bell already?"
"Hey, I didn't know if you were asleep or what."
"Well, I'm wide awake now."
"Sorry. I'm looking for Cole Fujiwara."
"You found him," he replied warily. "Sloan?"
"Wow. You've grown. When'd you get so tall?"
And when the fuck did you get so hot?
"Probably when you lost all the weight," I replied out loud, taking a really good look at him. He was nothing like I remembered. The chubby kid with thick glasses who teased me and told me I threw like a girl was gone. In his place was a young Johnny Depp look-alike with cut-glass cheekbones and bone-straight black hair sliding over his forehead. The specs were gone as well, probably replaced by contacts, but those indigo eyes were exactly the same, courtesy of his Irish mother, and I was rooted to the spot.
"Are we going to stand here all night?"
I snapped out of my trance even as the blood rushed to my cheeks. Caught in the act of staring again, I was flustered and behaving like a total dweeb. Any hope of making a good first impression was shattered by my momentary lapse in judgment. "Sorry."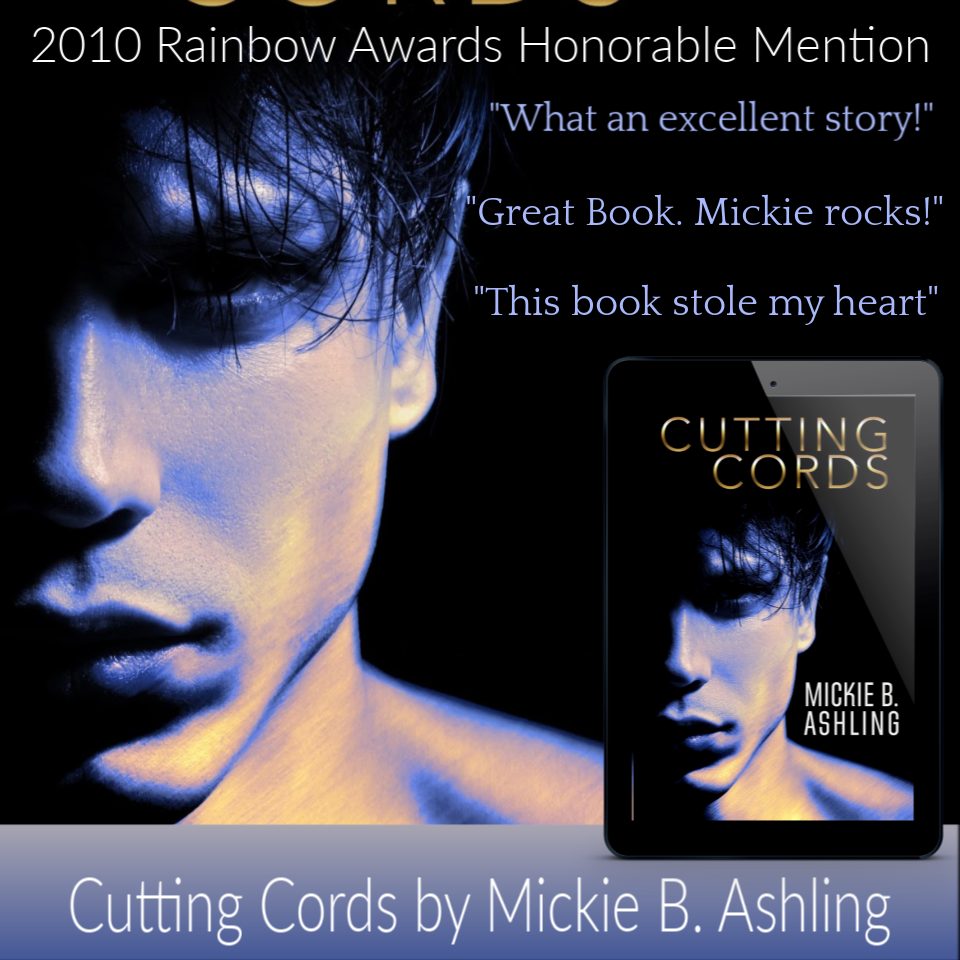 Meet the Author
MICKIE B. ASHLING is the pseudonym of a multi-published author who resides in a suburb outside Chicago. She is a product of her upbringing in various cultures, having lived in Japan, the Philippines, Spain, and the Middle East. Fluent in three languages, she's a citizen of the world and an interesting mixture of East and West.
Since 2009, Mickie has written several dozen novels in the LGBTQ+ genre—which have been translated into French, Italian, Spanish, and German. Lately, her muse has been nudging her in a different direction, and she's learned through past experience to pay attention to creative sparks that show up unexpectedly. Her pen name is a part of her now, and will travel along on this exciting new journey, wherever it might lead.
Giveaway