Title: Nights Without Night
Series: Fox Lake Series #2
Author: Marina Vivancos
Publisher: Self-published
Release Date: 18th June 2018
Heat Level: 3 - Some Sex
Pairing: Male/Male
Length: 60,000 words
Genre: Romance, Contemporary, Childhood Friends, Mental Health
Synopsis
Isadoro and Iván have known each other since before memories were memories, when they were just the imprint of shape and sound pressed inside your head. They were raised together in La Portera, between the orange trees and water reservoirs, under an endless blue sky. Where they grew up is where Iván's love for Isadoro grew, too. There, from the earth and the water, organic and helpless.
Iván had grown used to this love. He'd grown used to absence, too.

Isadoro left for the military when they were both eighteen and took a piece of Iván with him. It was as inevitable as the baking sun and sandy winds of those lands. Iván didn't know how to fight it.
A thread between them remained. Phone calls, Skype sessions, rests between tours. But it was never quite enough.
After eight years, Isadoro comes back. At his core, he is the same man Iván has always known. But life has transformed them both from the malleable shapes of childhood and into the stiffer skin of adults. The situation is complicated further when they rekindle the 'benefits' portion of their friendship. The heat between them has always been undeniable, and now it scorches through them.
In the beginning, all seems well. But there are creatures under calm water. When they breach the surface, both Isadoro and Iván must learn how to help each other, but also to save themselves.
Please note: This story contains themes of affected mental health following the return from military combat. However, the ultimate focus of the story is on hope and recovery.
This story also contains very explicit scenes of a sexual nature.
Excerpt
The summer before Isadoro was finally deployed had run on borrowed time. I hadn't applied to college but had gotten a summer job in La Portera while I figured out what to do with my life. After work, I would go to the beach with Isadoro, pretending this was any other summer and that adulthood wasn't looming in September for both of us.
One night, we went down to the beach when it was late and dark. The sea was a pool of ink, the sound of it washing in and out a secret call. On Isadoro's dare, we'd stripped our clothes and ran into the water, the coolness a relief from the thick summer air.
The half-moon had been a bowl of rice perched on the black. We'd swam around, free in the salt and the waves, pulling each other under in a familiar game. We'd been our child selves, free of the ties that tugged at us beyond the water.
When we tired and let ourselves drift, I remember Isadoro swimming close to me. Remember the moon in his eyes. The way his wet skin had felt against mine. It had almost been a kiss. Almost. But I couldn't do that to myself. Not again. Not when he was leaving and he wasn't in love with me back.
Who would have thought that I would be able to resist the pull of the moon at eighteen, and cave so many years later, caught completely in its tide.
Meet the Author
When Marina was a child she couldn't sleep. Night after dissolving night she just couldn't sleep. Nothing much worked – until she started making up stories in her head. Suddenly, the transition into unconsciousness was a smooth dive into calm waters.
Marina is currently in a period of sleepless upheaval, and she hopes writing down the stories in her head will cast the same spell it did decades ago.
Marina hopes to write in a variety of romance sub-genres, from contemporary to supernatural to sci-fi. Her style, however, tends to focus on character-centred stories that explore different facets of the human experience, such as mental health. She also enjoys writing explicit, drawn-out sex scenes, so expect those to be a prominent feature of her stories.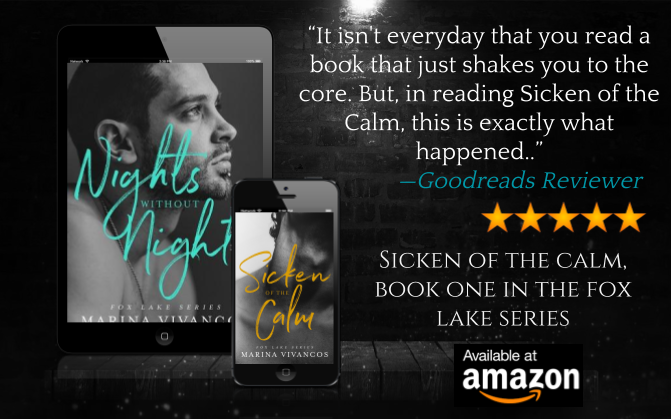 Giveaway