Title: Omen Operation
Series: Isolation, Book One
Publisher: NineStar Press
Release Date: June 18, 2018
Heat Level: 2 - Fade to Black Sex
Pairing: Male/Female, Male/Male, Female/Female
Length: 61100
Genre: Science Fiction, New adult, thriller, sci-fi, romance, virus, conspiracy, super-soldiers
Synopsis
An epidemic hits the country, and Brooklyn Harper is stolen from the life she knew.
Implanted in a rural camp, Brooklyn and her friends are severed from their families and the outside world. Each day is filled with combat training to assure their safety against a mysterious virus and the creatures it creates—violent humanoids with black blood.
Two years later, Brooklyn's cabin-mate, Dawson Winters, finds a letter that shatters the illusion they've been living in. There is a world outside Camp Eleven, and the virus that supposedly destroyed their country seems non-existent.
After a daring escape, Brooklyn finds the world they've left behind harbors the normalcy she remembers. But when they are attacked by a black-blooded creature in the city, Brooklyn and her friends realize there is more to Camp Eleven than they thought.
Someone took them, someone trained them, and now someone is trying to find them.
As their exploration continues, the group is faced with impossible feats while betrayal, love, and secrets force Brooklyn and her friends to fight for their life, their freedom, and most of all, each other.
Excerpt
Omen Operation
Taylor Brooke © 2018
All Rights Reserved
Chapter One
Flames chewed on a pile of logs in the middle of a large fire pit. Five people sat around it, huddled together for warmth. Brooklyn always sat closest, palms outstretched and glowing against the flames. Somehow, the smell of burning wood made things feel more temporary. Even if every night it reminded her of making s'mores on the beach back home—of brine and hot cement and San Diego.
Home seemed distant now.
The grounds had an array of fire pits scattered between the housing cabins that coaxed the fifteen inhabitants of ISO Recovery Camp Eleven to spread out among themselves and unwind.
"Hey, is your hand okay?" Gabriel asked.
Brooklyn turned her gaze to the girl lying in her lap. Gabriel. Her eyes reminded Brooklyn of a comic book character. They were green like jungle canopies, sharp and defined by dark lashes and thick brows. The day the tall blonde was dropped off at the camp was the first day Brooklyn didn't feel alone. That day, two years ago, bravery became easier.
"It's fine." Brooklyn shrugged. "I just tweaked it when we were training."
Gabriel's bottom lip was shadowed by a small scar on the right side of her smile. It was hardly noticeable, a tiny defect on a fine-boned, fiercely beautiful face. She pushed her cheek into Brooklyn's thigh and nodded, fingertips playing with the frayed ends of Brooklyn's jeans, absently touching the exposed skin on her ankle.
Black combat boots shifted on the other side of the circle. Dawson, a boy with a hard jawline and wild eyes, tilted his head to the side. He wore bitterness like a badge and lifted his chin to peer over the fire at Gabriel. "You're too strong for your own good."
Brooklyn sighed.
Gabriel grinned. "Wouldn't you know? I had you tapped out in under a minute yesterday, didn't I?"
His lips twitched. Smiling suited him.
"You did…" He held his hands against his chest in mock surrender. "Maybe you should take it easy on us."
Two others sat beside them; one was a boy with black tunnels set snugly in the stretched lobes of his ears and a stud buried in the middle of his tongue. His smile was wide and contagious, set neatly on a narrow face with high cheekbones. Julian had been the first to introduce himself to Brooklyn when she arrived. He'd had the sun in his eyes, and the first thing he'd said to her was, "I don't know where the hell we are, but apparently we're not gonna die." He'd laughed, showed her around, and he hadn't pretended to have any answers. His uncertainty had been refreshing.
Brooklyn swayed when the last of their small pack nudged his head against her shoulder.
"You should let me wrap it up for you in case it's sprained," Porter said.
"I'm fine," Brooklyn said.
Porter leered at her over a pair of black-rimmed glasses resting on the tip of his nose. "Suit yourself," he mumbled, and reached under his beanie to scratch the back of his head.
Brooklyn didn't bother answering. She inhaled the smell of campfire and Porter's cologne, memorized the gentle sweep of Gabriel's fingertip on her foot, and tilted her head back to look at the sky. The stars glowed, shining bright and commanding attention, against a vast and constant black sheet. Night was alive here. More alive than back home. She rolled her lips together. Constellations rested low behind the trees that lined the outskirts of the camp and curved over the peak of a distant mountain.
At least it's a beautiful cage we're stuck in, she thought.
The shrill squeal of a whistle cut through the air. Dawson rolled his eyes. Gabriel groaned and stood. Another day gone, another night stuck in a cabin without answers, without her family, barely holding on to the last thread of hope that she might make it back to southern California someday. She followed the others into their dorm, a dusty cabin that reminded her of grade school and pre-teen summers. Three sets of bunks made up their living quarters. To the right through a doorway was an adjoined bathroom with shower stalls and toilets. To the left was a closet filled with boots and coats. Cheap, scratchy sheets and a heavy comforter kept the cold at bay.
Brooklyn watched Dawson move around the familiar space. She listened to Julian's mattress squeak and Porter unlace his boots. She didn't want to be used to this—to Camp Eleven and what she'd learned there. To the handsome boys who slept in the same room as her. To Gabriel Serisky, who was dangerous and lovely, and out of reach.
She wanted crashing waves and a too-bright sun. She wanted to be soft again. To be the Brooklyn she was before the outbreak again.
"You all right, Brooklyn?" Porter set his glasses on the nightstand between their bunks.
"Yeah," she said quickly, and then again, slower, "yeah, I'm fine."
Brooklyn fell asleep to the sound of the bed above her squeaking under the weight of Gabriel's hips, and the hum of Julian's soft snores from across the room.
When she closed her eyes, she hoped for peacefulness. For nothing.
But the same memories came for her. Old memories. Distorted, cruel memories. And they made her afraid.
Purchase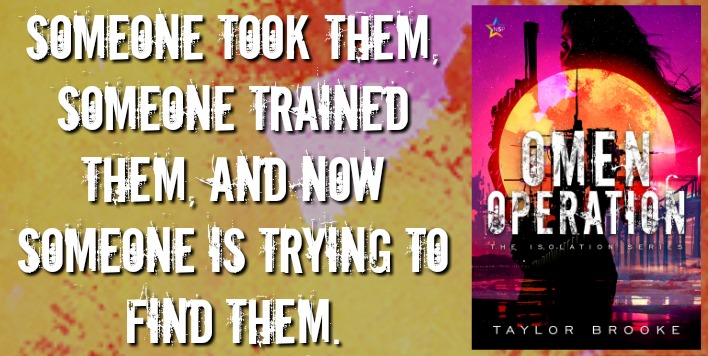 Meet the Author
Taylor Brooke (she/they) worked as a special effects makeup artist for many years before she wrote her first book. When she's not writing, she's exploring the Pacific Northwest, backpacking, or reading. She is the author of The Camellia Clock Cycle and writes #ownvoices Queer books about love, secrets and magic.
Giveaway