Release Blitz: Ghost's Dilemma by Morwen Navarre
Series: Witch's Apprentice, Book Two
Publisher: NineStar Press
Release Date: July 30, 2018
Heat Level: 3 - Some Sex
Pairing: Male/Male
Length: 64300
Genre: Paranormal, Fantasy, established couples, witch, magic, hurt-comfort, separation, illness, healer, epidemic
Synopsis
Ghost is content to spend all his free time with Gerry. But scandal and hate surrounding Ghost's appointment as the first male witch, along with a deadly epidemic, force Ghost to make choices that will separate him from his love.
Spurred on by a message from his mentor, Ghost embarks on a journey through mystical underground tunnels and lost civilizations to the frozen lands of his origin, seeking a way to neutralize the threat back home. While he struggles to find a balance between his duties as a witch and his calling as a seer, all Ghost really wants is to return to the haven he has found in Gerry's arms.
.
Excerpt
Gerry strode down the slate path beside the house, toward the familiar and rhythmic sound of Ghost chopping herbs. Ghost was absorbed in his work at his bench, so Gerry took the opportunity to stand in the doorway and admire Ghost from behind. His snowy white hair was tied in a messy tail hanging between his shoulder blades. His pert buttocks presented an enticing sight in his smooth leather breeches. Although he stood just a bit over sixteen hands in height, his lean muscles rippled under his shirt as he trimmed and tied the herbs to be dried. While Ghost finished hanging a bundle of greens by the stem, Gerry snuck up and wrapped his arms around Ghost's middle. Ghost startled, then laughed and relaxed against Gerry.
"Do I smell scones?" Gerry asked into Ghost's ear. Ghost turned to face him, and Gerry stole a playful kiss. His hip brushed against the curve of Ghost's rear.
Ghost leaned back into the embrace. "I had the time this morning. The sole visitor I had was a woman with a deep cut. She slipped when she was chopping root vegetables and the knife went clean to the bone." Ghost wriggled free from Gerry's embrace. "Now, let me wash up and we'll eat."
Gerry patted Ghost's rear as Ghost walked past him. Ghost ducked his head and smiled. Gerry followed him into the yard, enjoying the view as Ghost rinsed from the bucket by the well.
"I saw the godsman today." Ghost stiffened enough for it to be perceptible before Gerry continued. "He says we can make it official at the full moon."
Six moons had passed since the godsman had refused to perform the rite for them, claiming Gerry and Ghost had not had a proper courtship and could not be sure of their convictions in such a short time.
"If you still want to, of course. And if you can last another quarter moon."
Ghost spun and launched himself into Gerry's arms. Gerry laughed as Ghost buried his wet hands in Gerry's hair and pulled Gerry down into a heated kiss.
When Ghost finally let Gerry up, Gerry gazed into Ghost's ice-blue eyes and smiled. "I'll take the kiss for a yes." Ghost opened his mouth to speak, but Gerry touched his finger to Ghost's lips to stop him. "And I'm also going to tell you I'm the happiest man in the village right now. I love you, Ghost. I'd lay down my life to protect you, and I won't ever let you be harmed. You'll always be safe right here in my arms if you accept my offer to be my mate and bind yourself to me."
"Of course the kiss is a yes." Ghost's eyes glistened like ice melting in the sun, and his lips trembled through his smile. "I'll bind myself to you gladly, Gerry. I trust you to keep me safe, even when I'm reckless, and I know you'll protect me from whatever goes wrong. Your arms are my sanctuary when I'm ready to give up because I know you'll be strong for me. And I love you. I'll love you for as long as I live."
The full moon finally arrived, and Ghost and Gerry dressed in their best clothing to appear in the gods' house. Gerry brushed Ghost's hair until his long tresses shone. Ghost's nimble fingers danced along the line of bone buttons on Gerry's shirt. The traditional gift to the gods, consisting of a fat runner and a cask of mead, had been accepted and left on the offering table.
Gerry listened to the godsman's droning voice. Ghost stood beside him. Both of them faced the gods' wall, decorated with carved masks for the Seven and a blank mask for the Eighth.
"As our gods themselves have done, you come to take an oath to bind yourselves together. Ghost, you will no longer be solely Gerry's dependent. You will be Gerry's mate, first in Gerry's heart. Gerry, you will no longer be solely Ghost's alpha. You will be Ghost's mate, first in Ghost's heart. You must give each other unconditional love and trust, setting the needs of the other above your own. Gerry, you must protect Ghost and guide him. Ghost, you must trust Gerry's judgment and let him guide you. Above all, you must not forsake the oath you take today in the sight of the gods."
The godsman placed Ghost's hand in Gerry's. As he wrapped a thin red cord around their wrists, he said, "The Father and the Lady. He protects and she guides. The Hunter and the Farmer. He culls and she nurtures. The Sea and the Moon. He sends dreams and she awakens love. The Seeker and he whose name shall remain unspoken. Let all the gods bear witness to your oath."
Gerry turned to gaze into Ghost's clear blue eyes, seeing joy and love reflected back. "I offer you my protection and my love. I will care for you and keep you from harm for all of my days. You will be first in my heart, Ghost. Before the gods, this is my oath to you."
Ghost's voice was strong. "I accept your protection and your love, and offer you my love for all of my days. I will trust in your care and find safety at your side. I will care for you, and you will be first in my heart, Gerry. Before the gods, this is my oath to you."
The godsman tied a loose knot in the cord that joined their wrists. "May the gods smile upon you both and bless this mating."
The cord around their wrists did nothing to dampen the ardor of the kiss Gerry bestowed on Ghost, a kiss Ghost returned with equal enthusiasm. They were mated now, and Gerry's elation could not be contained as he claimed his beloved witch for his own.
Purchase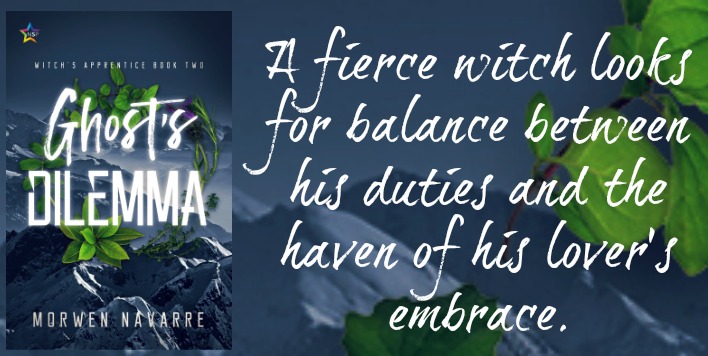 Meet the Author
Morwen has been writing since she could first hold a pencil, and by all accounts she didn't limit myself to paper. Walls, tablecloths and the occasional sibling were all fair game, and it shouldn't be surprising to learn that markers were banned in her home with all due haste. Although she now contents herself with inconveniencing electrons, the desire to bring the stories in her mind to life hasn't waned.
In her spare time, she reads, putters in the kitchen, and relaxes on her terrace or at the lake, weather permitting, with her corgi who strives to be part muse, part food disposal. She's also addicted to coffee and has a close relationship with her Keurig.
Giveaway