Title: Out on the Ice
Series: Out in College, Book 5
Author: Lane Hayes
Publisher: Lane Hayes
Release Date: March 19, 2020
Heat Level: 4 - Lots of Sex
Pairing: Male/Male
Length: 63k
Genre: Romance, New Adult, Bisexual, Enemies to lovers, College romance, Athletes, Hockey, Baseball, Humor

Synopsis
Colby Fischer is a bad boy with attitude and a chip on his shoulder. As a senior at a Southern California college, he knows this may be his last shot. He doubts he'll ever become the hockey legend he dreamed of being as a kid, but he definitely doesn't want to be an accountant. Things get interesting when he's asked to train the new intern at his step-dad's firm, who happens to be the troublemaker from his econ class. And the one guy Colby can't stand.
Baseball is Sky Jameson's life. He's happy to be back at Chilton for his senior year, but he's burned a few bridges and has a bit too much free time off-season. He could use the money and something to keep him busy until his season begins. But his accidental crush on his prickly coworker could be a problem. Colby is straight and Sky is in the closet. Their timing isn't great, but the intense attraction is hard to deny. With his final season on the hockey team in the balance, Colby may have to decide if he's ready to come out on the ice.
Excerpt
"What position do you play?" Sky asked, pealing the label off his water bottle.
"Right wing. Forward. Think of soccer where the front line moves the ball down the field. We do the same with the puck."
"I know how it works. I've watched a lot of hockey."
"Have you ever played?" I asked.
"No. Baseball was always number one for me. Besides, hockey is kind of…rough. There's always a fight. And the game moves so fast, it's hard to see the puck sometimes."
"Not if you pay attention." I raised my beer bottle in a mock toast and grinned. "And I like it rough."
Sky pursed his lips and stared at me…or maybe he was staring at my throat. I couldn't tell. "Me too. But not on the field. It distracts from the game."
"In hockey, it's part of the game. If you can't defend yourself, your teammates, and the ice, you have no right to be out there. Might as well take up ice dancing or something," I snarked, only half kidding. "And no offense, but ice dancing is a hell of a lot more entertaining than baseball. Trust me, I know. I played Little League for a couple of years. I used to beg the coach not to put me in the outfield. Geez, you could take a fuckin' nap out there some days, you know?"
Sky laughed. "Fuck you. You obviously don't know what you're talking about. Baseball is a game of strategy."
"Strategy my ass," I huffed, smiling to take the sting from my words…even though I kinda meant it. "It's one of those weird sports where everyone gets pumped when nothing happens. 'Oh, it's a no-hitter. That's amazing!' Sure…but nothing fuckin' happened! No one hit the ball, no one rounded the bases, no one slid to home plate. No one had to even wash their damn uniforms! And you know why?"
"'Cause nothin' fuckin' happened," I replied, taking a long sip of my beer as I let the sweet sound of Sky's laughter wash over me.
God, he had a great laugh. It made me like him a little more. And yeah, as much as I didn't want to admit it, I liked Sky. He was smart, talented, easy on the eyes, and he had a sense of humor.
"That just proves baseball players are smarter than hockey players," he taunted.
"Said no one anywhere ever." I held my hands up in surrender when he flipped me off. "Hey, I'm kidding. I like baseball fine. I told you I follow the Tigers. I still have the jersey my dad bought me when I was ten. Dude, I'd wear it if I still fit in it. What's your position?"
"Shortstop. I've played almost every position at one time or another but I like it the best. You gotta be quick, have a strong arm, and good instincts. I also have a long wingspan. That helps."
"Makes sense. I don't know about wingspan, but you gotta be quick in lightning fast hockey too with quick reflexes. Big ol' quads help." I smacked my thighs and chuckled. "Mine are kinda huge."
Sky gave me a lopsided smile. "I noticed. It's hot."
"You think muscular legs are hot?"
"I do. Believe it or not, it wasn't your sweet personality that made me look twice. It was your thighs."
I snickered. "That's weird."
"Maybe, but it's true. You always wore shorts to summer school. I used to come in a little late so I'd get a good look at you before I sat down. I purposely didn't sit next to you because I knew I'd get caught staring. And the one day I did, you were the one who got caught."
"Are you telling me that all this started because of my thighs?" I asked, narrowing my gaze suspiciously.
Sky nodded. "Basically…yes."
We held eye contact for a moment then busted up.
And when our laughter faded, the mood changed all over again. I felt that same crackle of heat and sexual energy I always did when I was around him, but this time I knew what it was. And though I might have been unsure, I wasn't afraid.
I leaned forward on my barstool and motioned for Sky to close the distance. He brushed his nose against mine. I held my breath and waited for him to make a move. Any move at all. When he blinked, I licked the corner of his mouth then pressed my lips to his and closed my eyes.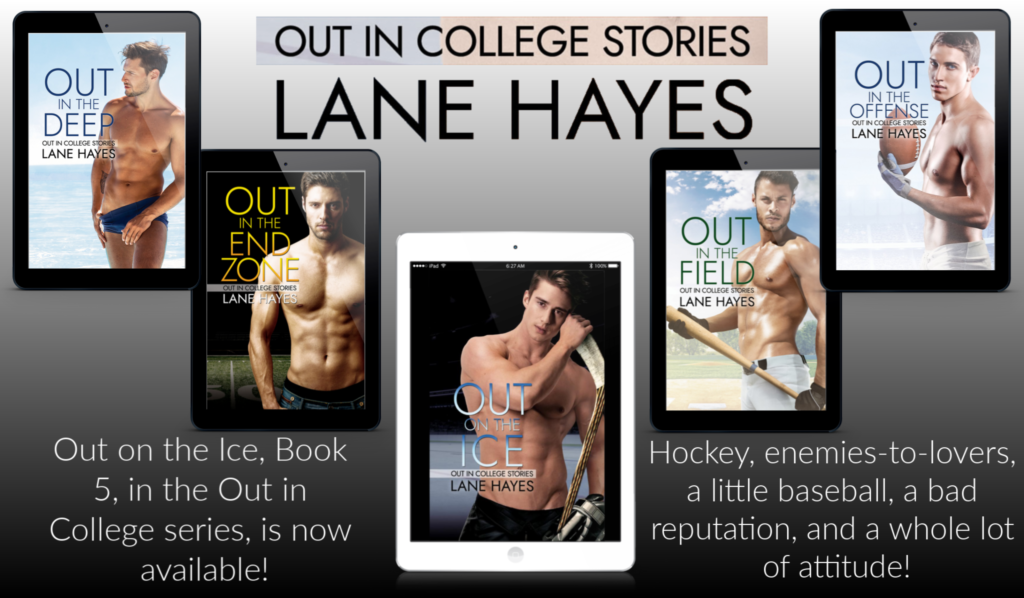 Purchase the other books in the Out in College Series
Meet the Author
Lane Hayes is grateful to finally be doing what she loves best. Writing full-time! It's no secret Lane loves a good romance novel. An avid reader from an early age, she has always been drawn to well-told love story with beautifully written characters. These days she prefers the leading roles to both be men. Lane discovered the M/M genre a few years ago and was instantly hooked. Her debut novel was a 2013 Rainbow Award finalist and subsequent books have received Honorable Mentions, and were First Place winners in the 2016 and 2017 Rainbow Awards. She loves red wine, chocolate and travel (in no particular order). Lane lives in Southern California with her amazing husband in a newly empty nest.
Giveaway