Title: Playing House
Series: Rough Play, Book Two
Author: Suzanne Clay
Publisher: NineStar Press
Release Date: March 23, 2020
Heat Level: 3 - Some Sex
Pairing: Male/Male, Male/Male Menage
Length: 80500
Genre: Contemporary, LGBTQIA+, contemporary, college, new adult, bisexual, trans, queer, coming-of-age, ethical nonmonogamy, polyamory, threesome, homophobia, family issues, theater/acting, sex toys, dirty talk

Synopsis
After six months deeply in love with each other, childhood best friends Logan and Christian are excited for their first summer away from home. With one year of college under their belts, they're ready to grow up and see what the rest of their lives will be like together by strengthening their relationship over the next few months. But fate has never followed their neat plans.
Christian receives an opportunity to pursue one of his greatest unfulfilled passions: acting. It's a chance to explore a talent his parents crushed before he could dream of spending his life studying it—but is he up to the challenge? Is it worth taking the risk, knowing his family won't support him?
Logan struggles with his attachment to Christian and his fears of being left behind. If Christian's career on the stage takes off, will he abandon Logan and replace him with far better lovers? And how can Logan be so hypocritical when another man has caught his eye? Or has that man perhaps captured Christian's attention as well?
Their relationship will be tested far beyond their imagination—but love always has room to grow, even in the face of fear.
Excerpt
Logan's muscles ached like hell. It probably had something to do with the mountain of opened boxes sitting in the corner of the small bedroom. With the massive bed taking up the lion's share of the sunshine-lit room, his empty moving boxes cluttered up the rest. Everything still wasn't in its place, but he couldn't be mad about it right now. This was home for the summer—away from Fulton State University.
Words couldn't express how grateful he was not to be going back to the little town of Greenbarrow. God knew he'd have finer company here than there with his family.
The sound of footsteps crumpling plastic bags on the floor behind Logan made him speak. "You haven't changed a bit."
"Don't need to change when you're perfect." Christian's familiar drawl had the same effect on Logan that it always did: a slow series of tingles drifted down his spine. "Don't be roasting me on how I pack shit."
"You make it so easy." Logan turned around and pointed at the equally messy pile of empty bags. "That. Look at that. I'll buy you suitcases, duffel bags, anything you want—just stop putting everything in a goddamn trash bag."
Christian slung an arm around his shoulder and kissed his cheek. "How much does it cost to get you to stop running your mouth?"
Difficult to think of a price, really, when goose bumps were still skittering over his arms. He turned his head and found Christian's mouth less than an inch away. "…half an hour of making out."
With a solid shove to his back, Logan landed facedown on the bed, then grunted when Christian's weight crashed down on him. Instincts kicked in—he dug his elbow into Christian's side and shoved him away, then rolled away to get a better position for wrestling.
Six months of dating, and they still acted like they had every day of their thirteen years of friendship. It wasn't an easy habit to break. For every kiss they shared, there was Christian pinning Logan down until he said uncle and swore he'd do the dishes that night. Each evening they snuggled in one of the tiny bunk beds in their dorm, and they couldn't keep from shit-talking each other until their eyelids were heavy.
Weirdly, Logan thought being out of college for the summer would make their relationship a little more like a movie—soft, sweet, and romantic—but as he lunged for Christian and pinned an arm to his chest, he realized things might never change. And he was okay with that.
"I said making out," Logan gritted out as he batted one of Christian's massive hands away before it could grab his hair. "Not me kicking your ass again."
Christian laughed breathlessly. He snagged the back of Logan's neck. "This is just foreplay, baby, don't be silly."
Baby. He still wasn't used to that either. The air caught in Logan's chest long enough for Christian to put him on his back. With the sight of his stunning boyfriend rising above him, all dark skin and dangerous eyes and smirking lips, he didn't much feel like fighting anymore.
Whatever energy was overflowing in Christian seemed to dissipate. He trailed the back of his fingers down Logan's cheek, leaving a path of fire behind them. One finger snagged in the neckline of Logan's T-shirt as Christian bit his bottom lip and sighed.
The mood changed fast with Christian, and Logan never knew how to keep up. Not even after all this time. All he could do was watch him with a sense of wonder and see what he was going to do.
"I was gonna ask if you wanted to grab some food now that we're done unpacking," Christian murmured. He tugged at Logan's shirt, and the hook in his belly yanked even harder. "Now I'm pretty sure I wanna eat you."
Logan exhaled sharply. "You know you don't gotta ask."
Christian crashed down, their lips smashing together painfully, as he dug his fingers into Logan's thick curls. As he shoved Logan back on the mattress to try to get better leverage, something fell to the floor, and Christian lifted his head with a huff. "The fuck is that? Are you already breaking shit?"
"Me?" Logan shoved him with a laugh, then rolled over to reach for the fallen binder. "C'mon, this is gonna make you feel old as fuck. You ready?"
"Aw, hell." Christian lay on his side, head supported by his hand. "What's this?"
Logan opened the binder. Inside were a few memories that he wouldn't have shown anybody else for love or money—but Christian was different. He was the man he loved. And these little treasures included him too.
"Oh my God." When Logan held a photograph toward Christian, he took it with another rough chuckle. "You've gotta be kidding me."
"So cute," Logan teased, and Christian elbowed him.
It was an old, battered photo of Christian as a child in his first-ever church play. Some girl was trying to pull off her shoe in the background, and a boy was going completely off-script and pushing someone off the stage, but Christian stood very seriously at the front of the stage as he delivered some poorly written line or another.
"Jesus Christ," Christian breathed, shaking his head, and Logan threw an arm around his waist with a grin, snuggling closer to see better. Christian scoffed. "Damn. Probably a good thing I never went after that shit. I look stupid."
"You're a kid. You all looked stupid." Logan left a messy kiss on his cheek.
"Funny." Christian set the photo aside, then pulled something out from the other sleeve of the binder. "What's this?"
"Oh, that's…" Logan reached to take it away, but Christian was sitting up out of reach. "Hey, c'mon—"
"Ooh, I remember now! Baby's first monologue!"
Logan made another dive, driving Christian to his feet. "Don't! It's awful, man, give it."
"Not a chance in hell!" Christian turned his back to him and began to recite. "Family. Is there any deeper hell than family? Is there—"
Logan couldn't listen to a word. With strength he hadn't used since they'd started dating, he practically crawled up Christian's shoulders and snatched the paper away with such force that he ripped it free from the fingerhold of paper Christian had. "No, we're throwing this shit away right now." The mere memory of how enthralled he'd been by Christian performing it when they were teenagers was embarrassing.
"Hey, hey." Christian grabbed Logan's shoulders, but when he didn't reach for the paper again, Logan stayed still, tension in his chest. "Just 'cuz we were young and awful when we did that shit don't mean we shouldn't keep it. Remember where we came from. You know?"
Logan scoffed an unamused laugh. Yeah, great to keep it around when we're never gonna get to follow those dreams again. Right.
"Just put it away, man." He offered the paper over his shoulder, then turned his head to watch and make sure Christian did as he asked instead of being an asshole.
The knock on the door drew Logan's attention back to the present. "Yeah?"
"Just Noah," Christian said absently. "Who the fuck else would it be?"
"Shut up." Logan laughed, but moved to open the door.
"Hey!" Noah grinned up at him, flushed from his own exertions of unpacking. "Just wanted to let you know we've got cookies!"
"Yep! From Daiki." Noah gestured behind him, and Logan leaned until he could see a bouquet of sweets set up on the tiny, scratched dining room table. "He sent a note too. He says he wishes he could be here."
The bed creaked behind Logan as Christian spoke. "You're actually sharing your boyfriend's cookies with both of us? Now, that's friendship."
Noah chuckled. "It's not that big a sacrifice—I can't eat that many anyway." He blinked. "I wasn't interrupting anything, was I?"
"Nah," Christian drawled. "We were having a walk down memory lane. Then I thought I'd maybe fuck Logan's brains out. The usual."
Logan turned his head, cheeks flaming. "Shut up!"
"Just saying." Christian shrugged.
"Oh! Uh. Right. Right." Noah stepped back into the hallway, his hands raised. "You know what? I think I'm going to run to the grocery store, so, uh, if you guys need anything, just text me, I'll pick it up, no problem…" He was still talking as he grabbed his keys and walked straight out the front door.
Christian immediately burst out laughing, grabbing his bare stomach. "Did you see the look on his face?"
"Oh, you don't think he's entitled? Are you just gonna announce every time you wanna fuck me?" Logan shut the door and went for his belt with a roll of his eyes. Christian might be obnoxious sometimes, but it didn't stop the fact that his gut was stirred up, eager for a distraction from the binder Christian had tossed to the floor.
The look Christian gave him—dripping with heat and invitation—scalded Logan's skin. Christian licked his lips, his gaze drifting down, down, down, until it rested on Logan's hands. "Well, it's just damn polite, ain't it? Unless you don't want me to. You want him to be surprised when he sits there and hears us fuck every time?"
That was a bizarre thought, one that made Logan snort and roll his eyes and completely ignore the lift of carbonated bubbles in his chest, around his heart. No, instead of thinking about it, Logan kicked his pants off and crawled on top of Christian and got caught up in how goddamn lucky he was. He'd spent months thinking he'd never get to have this, but here they were, safe in their own bedroom, with a bed they could sleep in side by side and a roommate who wasn't going to throw a fit if they made love to each other in the middle of a weekend afternoon. As far as Logan was concerned, there was nothing ahead of them but hope and light.
He was lucky—too lucky—and he refused to think about what might happen if that luck ever ran out.
Purchase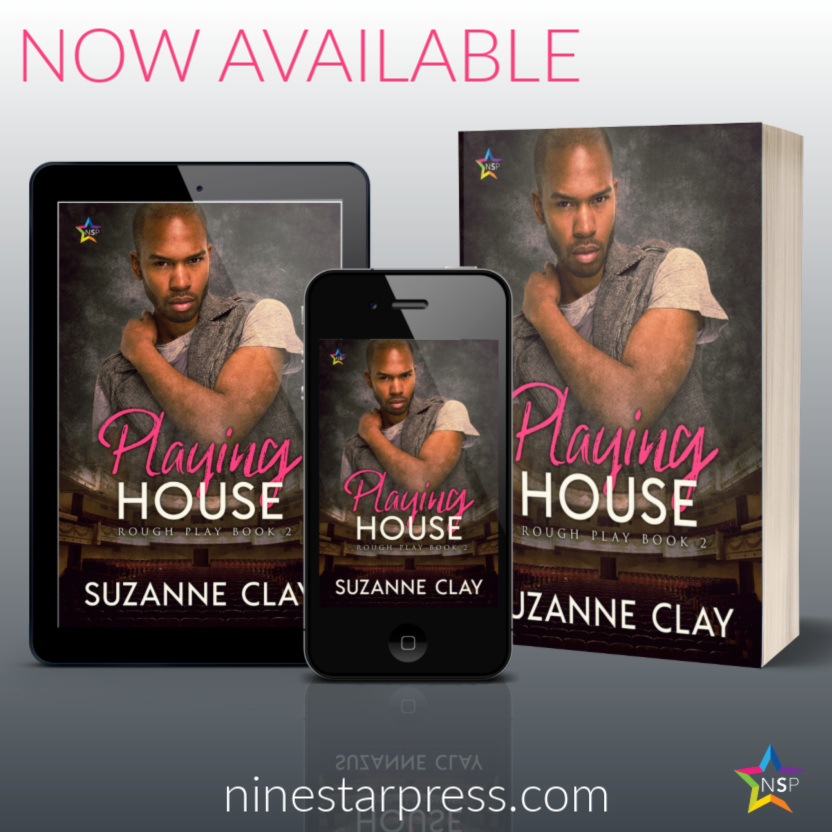 Meet the Author
Suzanne is an asexual woman with a great love for writing erotica and enjoys spending her time confusing people with that fact. She believes there is a need for heightened diversity in erotic fiction and strives to write enough stories so that everyone can see themselves mirrored in a protagonist. She lives with her husband and cat, and, when not writing, Suzanne enjoys reading, playing video games poorly, and refusing to interact outdoors with other human beings.
Giveaway