Title: Raining Men
Series: Chaser, Book Two
Author: Rick R. Reed
Publisher: NineStar Press
Release Date: March 9, 2020
Heat Level: 3 - Some Sex
Pairing: Male/Male
Length: 100416
Genre: Contemporary, LGBTQIA+, sex addiction, therapy, friends to lovers, hurt-comfort, guilt, reparation, over 40

Synopsis
The character you loved to hate in Chaser becomes the character you will simply love in Raining Men.
It's been raining men for most of Bobby Nelson's adult life. Normally, he wouldn't have it any other way, but lately something's missing. Now, he wants the deluge to slow to a single special drop. But is it even possible for Bobby to find "the one" after endless years of hooking up?
When Bobby's father passes away, Bobby finally examines his rocky relationship with the man and how it might have contributed to his inability to find the love he yearns for. Guided by a sexy therapist, a Sex Addicts Anonymous group, a well-endowed Chihuahua named Johnny Wadd, and Bobby's own cache of memories, Bobby takes a spiritual, sexual, and emotional journey to discover that life's most satisfactory love connections lie in quality, not quantity. And when he's ready to love not only himself but someone else, sex and love fit, at last, into one perfect package.
Excerpt
Bobby sat on a leather chair in therapist Camille D'Amico's office, took in his surroundings, and mused on why the therapist had arranged the office as she had.
He made certain assumptions. Camille had placed the seating to be comfortable, yet not confrontational. Bobby supposed she wanted her office to have the effect, the ambiance, of a living room—a safe, calm place where she and her charges could relax like two old friends, just gabbing, getting to the heart of their problems. The office was dimly lit—blinds drawn and a Pottery Barn ceramic lamp the only illumination, sixty watt—and for Bobby, it had what he imagined to be the desired effect: calming. From the small charging/speaker unit on Camille's desk, the violin of Joshua Bell played softly, a warm background accompaniment.
Camille adjusted her halo of frizzy brown hair, running her fingers through it, and pushed her glasses up on the bridge of her nose. She didn't say anything, and Bobby supposed she was waiting for him to begin.
Bobby fidgeted with a button on his sport coat, not sure where to start. Camille eyed him up and down, and Bobby knew what she saw: a tall, lean man with above-average—well, way above if he were being honest—looks. And it wasn't just his vanity that informed him. He had been told more times than he could count that he was gorgeous, hot, that he had the kind of virile beauty seldom seen outside of men's fashion magazines. His clothes were expensive, tasteful—a soft navy blazer with a white, button-down, Egyptian cotton shirt crisp beneath it. His jeans were indigo blue, the kind that went for hundreds of dollars a pair. His red suede sneakers bore the subtle Prada logo beneath the laces. Bobby had thrown the look together to display a kind of casual elegance, and from the way the therapist was eyeing him, it succeeded in spades.
Even Bobby's face spoke of good health and clean living. Skin so fine it almost appeared without pores. His auburn hair, close cropped, had just a touch of product to give it sheen, even here in this dimly lit warren. From him wafted the aroma of Hermès, sprayed in a cloud that Bobby had walked into, to ensure he got just the right amount on him.
In short, he knew he appeared to be a man who had everything—health, looks, money.
He imagined the therapist must be thinking: So what the hell is he doing here? And then, sadly, he guessed her next thought might be: And why is it impossible for him to erase that mask of sadness that seems to cling to his face, marring those perfect features?
I'll wait for him to tell me.
Bobby knew how therapists operated, even if he had never been to one. He had read enough about them and seen enough of them in movies and TV shows to know their modus operandi. She would know, Bobby surmised, that silence was often the most powerful tool in a head doctor's arsenal. Silence prodded, pushing for respite, for release. It was human nature, these days especially, to want to fill that quiet void with talk.
But Bobby, too, waited. A full two or three minutes had passed since Camille had made her initial small talk greetings. Yet Bobby still played with the pewter button on his blazer, seldom lifting his arresting gray eyes to meet her gaze.
Camille tapped the toe of her shoe on the bamboo flooring, and Bobby wondered if she was beginning to get impatient. She stopped tapping suddenly when Bobby moved his gaze from looking around the room to her foot. He finally spoke.
Camille nodded. The simple nod and the sudden light in Camille's eyes told Bobby she remembered his old friend. He imagined what the pair must have once discussed, here, in this very room. She had probably helped Caden through love problems that most young men experience and issues with his mother's battle with cancer. Camille smiled, and Bobby thought it was because she knew Caden was now in a good place, in love with a wonderful man. Bobby wondered if she had heard Caden was moving in with his boyfriend, Kevin. Bobby wanted to tell her that Caden's mother was winning her battle with that hateful disease and that she was now recuperating at home, struggling through chemo treatments with grace and humor.
But he only knew these latter two things because he had heard them from a mutual friend one night at Roscoe's along the Halsted strip known in Chicago as Boystown. He had not heard them from Caden.
He had not heard a word from Caden.
"He's a good friend to have."
"Was. Was a good friend." Bobby realized Caden must have stopped coming to see her before Bobby had betrayed him, and the shame caused a rush of heat to rise to his face.
"He and I kind of reached a parting of the ways, I guess you might say. I…" Bobby sighed and his voice trailed off. He stared down at the floor.
"I kind of screwed up our friendship. I was an ass."
Camille cocked her head, a subtle indication for him to continue.
"You want to know what I did, huh?"
"I want to know what you want to tell me, Bobby."
"I tried to steal his boyfriend."
"In my defense, I didn't think Caden wanted him anymore."
He guessed that the therapist's first reaction to such news would be to recoil. Why not? Here before her was a man who had done a very bad thing, a reprehensible thing, and it seemed like he was sitting here wanting to blame the victim. He didn't think Caden wanted him anymore? Seriously? What kind of defense was that? Even if that was the case, and it was, someone still didn't go after a person their best friend had fallen in love with, no matter how sweet and sexy the man was.
But Camille, if she had any judgments, kept them to herself. Her face revealed nothing but a sincere desire to know more.
Purchase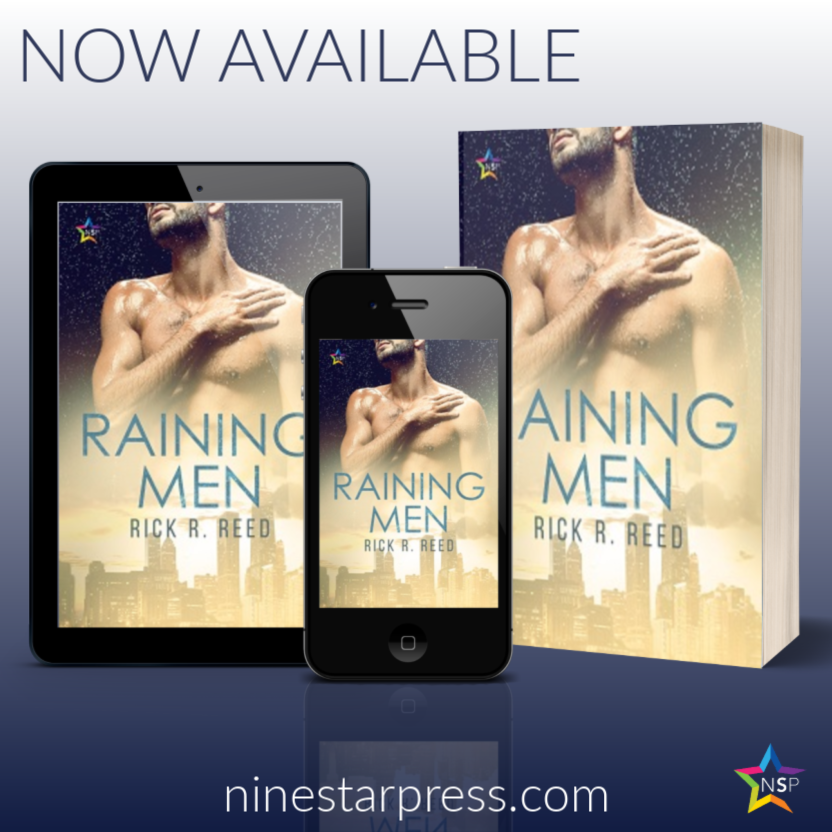 Meet the Author
Real Men. True Love.
Rick R. Reed draws inspiration from the lives of gay men to craft stories that quicken the heartbeat, engage emotions, and keep the pages turning. Although he dabbles in horror, dark suspense, and comedy, his attention always returns to the power of love. He's the award-winning and bestselling author of more than fifty works of published fiction and is forever at work on yet another book. Lambda Literary has called him: "A writer that doesn't disappoint…" You can find him at www.rickrreedreality.blogspot.com. Rick lives in Palm Springs, CA, with his beloved husband, Bruce, and their fierce Chihuahua/Shiba Inu mix, Kodi.
Giveaway