Title: Lucky Cowboy
Series: Ace Cowboy, Book One
Author: Liz Borino
Publisher: NineStar Press
Release Date: July 2, 2018
Heat Level: 1 - No Sex
Pairing: Male/Male
Length: 67300
Genre: Contemporary, Romance, contemporary, crime, cowboys, addiction, gambling, reunited
Synopsis
Childhood friends and lost loves.
A former horse trainer turned stockbroker, Ryder Christensen planned to spend the rest of his life with Sal—the man he had grown up and fallen in love with. But nowadays, Ryder only has two things in that make him happy: his daughter, and his poker-playing. One night, he comes home to find his daughter dead. Then the loan sharks come knocking.
Salvatore Lewis has spent the last six years running his late parents' ranch in Tryon, North Carolina. Between work on the ranch and helping his brother recover from an accident, Sal has almost gotten his old boyfriend out of his head. So, the last thing he needs is Ryder strolling back into his life. Sal tries to stay away, he really does. But the magnetism between the two men is undeniable.
Within a month, Ryder's taking care of Sal's horses, and the ranch-owner can't believe they're getting a second shot at happiness together. But there's more to Ryder's sudden return than he's letting on. As Ryder and Sal's relationship blossoms, Ryder's past in New York comes back to demand more than he has to give. Will Ryder be able to protect his new life from the threat that destroyed his old one?
Excerpt
Ryder Christensen's mind raced as he stared at the photo collage above the opulent coffin holding his daughter, Gabriella. The air grew thick and hot with every exhale in the cathedral. Between the priest's homily and the eulogy, Ryder struggled to breathe. He couldn't name even half of the people here. But that's what happens when death is sensationalized. People read a tragic story and think they have the right to share in the grief. Ryder just wanted to disappear.
Finally, the service ended. One more event to get through and then… Ryder glanced over at his mom and dad and sighed.
"Looking for me?" a gritty voice behind him asked.
"No." Never. Ryder never sought the man with dark glasses who towered over him.
Ryder growled low in his throat as he nudged the man out of the throngs of people leaving the cathedral. "You come today, of all days? Don't you have any respect? This is my daughter's funeral."
The man—who had never given Ryder his name, maybe for fear it might humanize him—crossed his arms over his chest. "And whose fault is that?"
Asshole. Ryder clenched his hands into fists. He shot his gaze around to see if anyone noticed he was missing yet. As the bereaved father, Ryder had to be on hand for the condolences of friends, family, and strangers. If I relax my posture, I can convince them that's what me and tough guy here are doing. With that, he released his fists and shrugged the tension from his shoulders.
"Word on the street is that you're leaving town soon. You weren't thinking about doing that without saying goodbye, were you?"
"I planned to stop to see your boss tomorrow." Ryder caught his dad's eye and raised his finger, signaling that he'd be right there, hoping with everything in him that his dad wouldn't come over or draw attention to his whereabouts.
"Well, if you have the money now, I could save you a trip."
Right, because handing over an envelope of cash at a funeral won't raise anyone's suspicions. "It's in my car. Listen, I'll—"
"You'll walk me over there, hand me the money, and I won't cause a scene." The man moved so that the handle on his revolver glistened in the sun. A pointed reminder of just what kind of scene he could cause, if given the chance.
Ryder raised his hands in surrender. "Follow me." He realized the futility of his words as soon as they left his lips. Keeping his focus on the uneven pavement under his unsteady feet, Ryder led the goon to his father's pickup and opened the driver's side door.
"I sold my nice car." And my nice house. And my nice retirement fund… Ryder swallowed the bile of emotions the thoughts brought up as he extracted the thick envelope from the glove compartment.
Everything I have. "That's what Boss and I agreed on."
"Hmm. I hope for your sake he remembers that agreement. Later, Cowboy."
Me too, Ryder thought as the goon tucked the envelope into his jacket pocket and strode toward his black, tinted-window SUV.
"Son?" Ryder's father asked from behind. "Are you in trouble? Something your mom and I should know?"
Ryder scanned his face for any indication of how much his old man had heard, but Victor Christensen was never one to give too much away. "No, Dad, don't worry about it. I took care of it."
Victor nodded, though Ryder could tell he didn't entirely believe him. "Why don't we drive over to that luncheon together? Your mom took our car when the service let out. Too many people for her."
Ryder passed his dad the keys and sat in the passenger seat. Manhattan always had too many people for his parents. "I imagine so. I appreciate you two coming, though."
Victor made a noise from the driver's side. "I'm going to pretend you didn't imply that we'd miss our only granddaughter's funeral. We'll always be there for you, son."
"I know, Dad. It's just—"
"Nothing. We'll go to this luncheon, sleep for a couple of hours, then head home."
Home. It had been a long time since he called the small North Carolina town of Tryon home. Something painfully ironic about starting over in the place he grew up itching to leave.
Purchase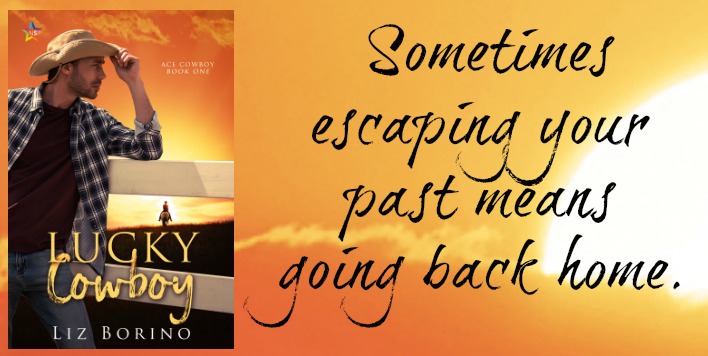 Meet the Author
Liz Borino has been telling stories of varying truthfulness since she was a child. As an adult, she keeps the fiction to the page. She writes stories of human connection and intimacy, in all their forms. Her books feature flawed men who often risk everything for their love. When Liz isn't writing, she's waking up early to edit, travel, and explore historic prisons and insane asylums—not (usually) all in one day. Liz lives in Philadelphia with her two cats and her significant other. Reach the author via
eMail.
Giveaway
a Rafflecopter giveaway