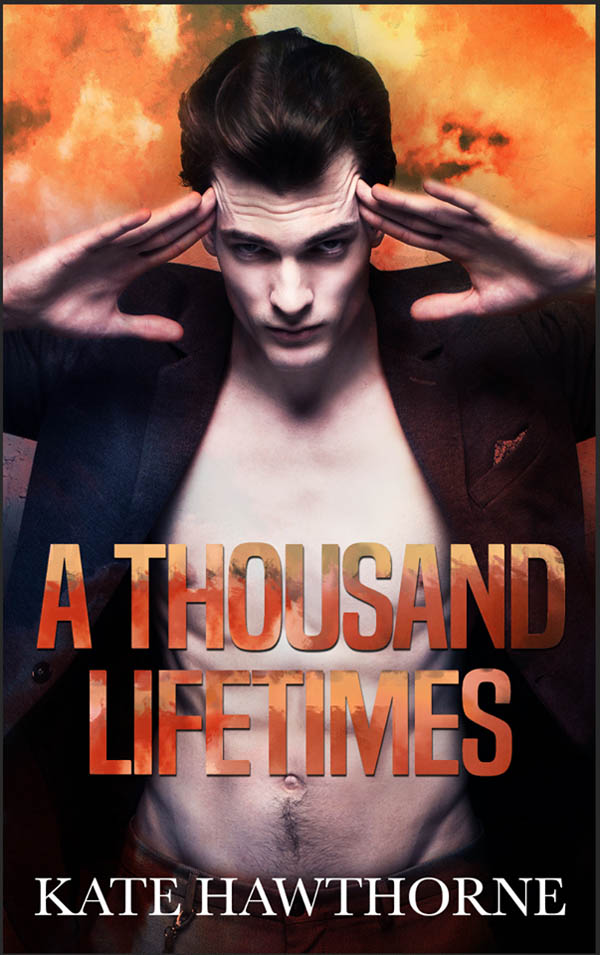 Kate Hawthorne has a new MM paranormal romance out: "A Thousand Lifetimes."
My name is Ezra Clarke, and I'm twenty-three.
Forever.
If you're counting in vampire years, I'm actually two-hundred and eight, and if living that long has taught me anything, it's that nothing lasts forever. And that's been fine. It's… whatever. I've never wanted anything that long, anyway, which is why I've never taken a mate, but that all changed when I met Declan Byrne.
He's young, handsome, and he doesn't do what I tell him to. He smells like cinnamon and has eyes that remind me of the daytime sky. Every kiss we share feels like home, and no touch lasts long enough.
I need him to be mine.
And for the briefest moment he is, and life is perfect… and then it isn't. Rogue vampires threaten to pull us apart, and complicated politics are painful reminders that a world exists beyond our privacy of our bedroom.
But if anyone thinks they can keep me away from Declan, they have another thing coming. My mate and I have a thousand lifetimes to live, and we're just getting started.
---
Kate is giving away a $20 Amazon gift card with this tour. Enter via Rafflecopter for a chance to win:
Direct Link: http://www.rafflecopter.com/rafl/display/b60e8d4791/?
---
Excerpt
The whole drive back to the house, Declan smiles at me like I've given him all of his Christmas presents a day early. It's unreal, the way it makes hope and want and happiness bloom inside a place that's sat vacant for two centuries. As soon as we get out of the car, he's at my side, lacing our fingers together and he presses against me like he wants to

be attached, and I don't hate it. The way Declan acts around me makes me feel like I'm bigger than I am, like maybe I didn't do such a bad thing after all.
I unlock the front door and hear clinking glassware from down the hallway. My parents are up, obviously. I want to pull Declan upstairs because I'm not ready to share him yet. I only want him to be mine and I want this time to be ours. Just for one more night.
That's a lie.
A lot more nights.
I want at least four more years of nights before I need to worry about whatever my parents are about to unload on us.
"Ezra," my father calls from the dining room, and the hope inside of me plummets into the floor.
"We're going upstairs," I answer.
"Ezra." This time it's my mother and I curse them both under my breath because they know I can't say no to her. I've never been able to.
"It's okay," Declan whispers against my neck. "I hope they like me."
I turn and cup his face in my hands, and I'm

pretty

sure it's impossible for someone to not like him. He's perfection.
I nod and lead him into the dining room where he stands nervously half a step behind me. My mom gets up and comes around the table and looks at me like I've done something wonderful. She has this proud smile on her face and her eyes shift to look at Declan.
"And who are you?" she asks in this soothing way she has about her. She's trying to get him to relax, and I equal parts appreciate it and hate it.
"I'm Declan," he answers, staying still. "Declan Byrne."
"Old name."
"That's what Ezra said."
Her lips twitch into a smile. "How are you feeling, Declan? Let's come and sit down."
She returns to her seat at the table and we both follow. Declan slips into the chair he sat at earlier, and I take mine. My parents both have drinks in front of them, and my mom asks if we want anything. Declan reaches over and grabs my thigh, his fingertips treacherously close to my sac.
"I'm

alright for now, thank you," he says.
"Declan, these are my parents, Birdie and William Clarke."
"It's nice to meet you."
"How are you fairing, then?" my mother asks again. She slides her hand across the table, palm up, and my father tangles their fingers together.
"Fine, I think."
"He's fine," I answer. "We're both fine."
"You, darling, were far from fine when it was your time. Have things changed so much now that such a life changing experience can be so well-received?" my mother says, and I bristle at the insinuation. I reach beneath the table and take Declan's hand.
"Our circumstances weren't comparable," I whisper, clearing my throat when the words catch. I don't want to have this conversation.
"I really am doing okay," Declan interjects. "I think it will be

an adjustment, obviously. But it's not the worst thing that's ever happened to me."
A wave of fear and disgust washes over me and I blink Declan into focus. He's looking across the table at my mother, but there's no doubt we're feeling the same way. I grip his hand tighter, and hope he knows that he has me now, and whatever happened to him in the past won't ever happen again.
"I'm sure Ezra has told you the basics, yes?" My father finally speaks up.
"No sun. No food. No silver."
"I assume since you've turned the two of you have… been intimate?" He looks properly embarrassed, and I wonder what he would have looked like if he could blush.
"Yes," I answer.
"Was there… a blood exchange?"
"Yes," I bite out.
"Good.

The mate bond

is sealed."
"What now?" I cock my head to the side.
"Once the mate

is turned, the bond is there, but it's weak until it's sealed with a blood exchange. If you've done that, the bond

is sealed."
"Why haven't you ever told me that before?"
"I honestly never expected you to take a mate, Ezra," my mother answers, taking her hand out of my fathers and folding them together neatly in front of her.
"You wanted to go to Hawaii," I grumble.
"You're such a wonderful boy."
"I can hear his thoughts," Declan blurts out. "Is that normal?"
My mother raises an eyebrow and shoots a quick glance at my father. "Sometimes."
"What does that mean?"
"It means there're different degrees." He waves his hand in the air with a small flourish. "Sometimes the bond between mates is stronger, more solid."
"Like soul mates," my mother supplies.
"Soul mates?" I ask
"What else is there?" Declan speaks over me, and my parents ignore my question for his.
"It's a list," my mother laughs. "It varies, I think. Some of it develops over time, some never. Like William said, it varies."
"What kinds of things though?"
"I don't think that's appropriate dinner conversation."
"I've had dinner." Declan shoots a challenging look across the table.
---
What was your favorite thing about writing this book?
I loved all of it, honestly. I don't want to give too much away, but there is a very special connection between Ezra and Declan and it was a lot of fun to play around with the ways it could be used as a plot device.
Who is your favorite secondary character in this book?
That's such a tough decision, as I have very fond feelings for all of them. I really think that Jedidiah, though, is a very layered character, and we're all just seeing the start of his development. He's Ezra's brother, and he's much quieter and far more subdued, but as I wrapped up A Thousand Lifetimes, he was being pretty chatty in my ear.
What character in this story fought you the hardest?
Definitely Ezra. Even though I don't actively plot, I had an idea in my head for where I wanted him to end up and once we were nearly there he really dug his heels in and argued with me about it. I worried that I wasn't going to be able to save the story because of it, but after a heart-to-heart, we were able to come to an agreement about the whole thing.
Which character in this story was the most fun to write?
Also, definitely Ezra, my broody little vamp. This story was a departure from my traditional plot lines. Not only is it my first paranormal book, but it's also the first book I've written in first person present POV. When I started writing, I never set out with the plan to write in third person past, it just happened, and it worked, so I stuck with it. I started toying around with the POV shift for a story I did as part of a giveaway and I had a lot of fun, so I wanted to give it a shot for something longer. I figured since this whole book was something new, I might as well go big. It was really great being able to get into Ezra's head in ways I wouldn't have been able to if I'd written him in third.
Time for a quick chat with Ezra and Declan:
Are you happy with the way Kate left your story?
Ezra – She could have given us an epilogue! I mean, Declan and I are trying to make plans and I've made him some promises. She could give me a little help on seeing them through.
Declan – I'm sure she's good for it. Give her a break.
Ezra – You know I'm not patient.
Declan – That's an understatement. But we're together, and that's what counts, right?
Ezra – We'll always be together.
Declan – I know. And so does Kate. But do you think she'll let me have some garlic bread next time?
What are you working on now and when can we expect it?
A Thousand Lifetimes ends with two side relationships that I am excited to write in the future, so you can expect more vampires from me in 2020. Before then, I have a collaboration coming out with J.R. Gray called May the Best Man Win, and I'm planning an early 2020 release for my next solo title, Unfettered.
Author Bio
Born and raised in Southern California, Kate Hawthorne woke up one day and realized she had stories worth sharing. Now existing on a steady diet of wine and coffee, Kate writes stories about complicated men in love that are sometimes dirty, but always sweet. She enjoys crafting hard-fought and well deserved happy endings with just the right amount of angst and kink.
From estate sale shopping to shoe worship, there's something in at least one of her books that'll tickle your fancy. Visit her website at www.katehawthornebooks.com
Author Website: http://www.katehawthornebooks.com
Author Facebook (Personal): http://facebook.com/katehawthornebooks
Author Facebook (Author Page): http://facebook.com/authorkatehawthorne
Author Twitter: http://twitter.com/katewriteswords
Author Instagram: http://instagram.com/kate.hawthorne
Author Goodreads: https://www.goodreads.com/author/show/17636987.Kate_Hawthorne
Author Amazon: https://www.amazon.com/Kate-Hawthorne/e/B0791M6HFZ/