Title: Jeff, Karma, and Me
Author: Jere' M. Fishback
Publisher: NineStar Press
Release Date: February 24, 2020
Heat Level: 3 - Some Sex
Pairing: Male/Male
Length: 90400
Genre: Contemporary, LGBTQIA+, contemporary, new adult, gay, bi, absent parent, mental illness, campground, Florida, Indiana, college students, multiple partners, coming out
Synopsis
Twenty-year-old college student, Jakub Mazur, is a loner consumed by feelings of helplessness due to his mother's unexplained disappearance many years before. He feels he's not in charge of his own life, that forces beyond his control will always determine his destiny. But when a summer affair ignites between Jakub and Jeff Brucelli, Jakub tastes both romantic love and self-empowerment.
After returning to school for his third year of college, Jakub suffers another tragic loss; it shakes his faith in his ability to navigate life's challenges. Is he doomed to suffer at the hand of fate forever?
When Jeff is diagnosed with Hodgkin's Lymphoma, a potentially fatal cancer of the lymphatic system, Jeff's oncologist says he must endure debilitating chemotherapy cycles, then radiation treatments. Jakub is devastated when he learns of this, but decides, for once, he will take control of his future instead of behaving like a helpless bystander.
Excerpt
I was twenty years old when Jeff Brucelli walked into my life and turned it upside down. I had just finished my sophomore year of college and was home for summer break, to live with my dad in the head ranger's residence in Fort De Soto Park, a county facility fronting Tampa Bay and the Gulf of Mexico. Dad oversaw the park's campground, as well as the picnic areas, boat ramps, piers, and beaches. Our house was a two-bedroom, wood frame structure seated on nine-foot pilings, with a screened porch overlooking a placid bayou. The floors were polished oak, and the wood burning fireplace was built of local limestone. A wooden dock and covered boat slip extended into the bayou, where Dad kept a sixteen-foot Carolina Skiff with a forty-horsepower outboard.
My first morning home, I gobbled a bowlful of cornflakes and chugged OJ from a carton. Then I took a bike ride through the RV section of the campground. The sun had risen two hours before and already the day heated up. Dampness gathered in my armpits while I pedaled along the crushed shell road. Most campsites I passed were waterfront, shaded by live oaks and sabal palms. Native foliage grew between them: sea grape, hibiscus, turkey oaks, and flame of the woods.
Many sites were empty, but at one near the eastern tip of the campground, an RV the size of a city bus hulked. A guy my age sat there at a picnic table, strumming an acoustic guitar. Shirtless and wearing cutoff denim shorts, he was slender and fair-skinned, and his cola-colored eyes narrowed when I approached on my bike.
"Are you staying here?" I asked.
Sunlight reflected in his mop of dark and wavy hair when he nodded and answered in a scratchy tenor. "My folks are serving as campground hosts the next few months. They're both schoolteachers and have the summer free, so we'll be here through August."
I dismounted and lowered my kickstand. Then I pointed my chin at the RV. "That's a nice ride."
"It belongs to my mom's parents. Grandma's not well these days, and they don't use it much, so they lent it to us for this trip. We're from Indiana."
I extended a hand. "I'm Jakub Mazur."
Jeff told me his name while we shook. His palm felt warm, his grip firm.
I explained how I was home for the summer from Florida State University and living inside the park.
"I just finished my second year at IU," Jeff said. "I'm a journalism major."
Jeff glanced here and there before he spoke again, this time in almost a whisper. "We've only been here a few days, but I get the impression most people in the campground are older—retirees and the like."
I rolled my eyes. "You won't find many college kids here, but we can hang out if you'd like. Got a bicycle?"
Jeff jerked a thumb toward a ten-speed Schwinn chained to a sabal palm.
"Let's take a cruise," I said, "and I'll show you my house."
Minutes later we rolled westward, side by side, while our tires ground against the road. We passed beneath limbs of ancient live oaks draped in Spanish moss. Up ahead, at an empty campsite, a great grey heron stood on a seawall, studying a canal in hopes of finding breakfast.
"How long have you lived in the park?" Jeff asked.
"Since I was eight, when my dad was promoted to head ranger. The residence comes with the position."
I rocked my head from side to side. "The park's pretty, and fishing here is good, but I never had other kids to do things with. It could get lonely, especially during summer when I wasn't in school. The days dragged by, if you know what I mean."
Jeff grimaced. "I spent a summer on my uncle's dairy farm, when I was thirteen. The nearest kid my age was three miles away, and I thought I'd go crazy from boredom."
When we reached the house, I pulled two Cokes from the fridge, and we sat on a glider sofa on the screened porch. Above us, a ceiling fan clacked and stirred the air. Out on the bayou's placid surface, a half dozen brown pelicans floated while an osprey chattered in a nearby long leaf pine.
"This is sweet," Jeff said while his gaze traveled here and there. "We don't have such places back home. Indiana's nothing but prairie."
Jeff talked about his hometown of Peru.
"We have about ten thousand people. There's a courthouse and high school, and it's only a three-hour drive from Bloomington, so I can come home on weekends if I choose to, but I don't often. There's not much going on in Peru."
I asked Jeff about his family.
"My dad's a middle school shop instructor, and Mom teaches freshman English at Peru High. They come from large families, so I have aunts and uncles all over Miami County, loads of cousins as well."
"What is it?" Jeff asked.
"My parents were both only children, so I have no extended family or siblings. It's just me and my dad."
I kept my gaze fixed on the bayou while my stomach knotted like it always did when I had to explain. "She has…mental health issues. About eleven years ago, she disappeared—just packed up her belongings and left. We haven't heard from her since."
"Damn, that had to be rough."
"My dad nearly lost his mind. Even today, I don't think he's fully recovered from the situation."
We rocked on the glider for a bit without saying anything more until Jeff rose.
"I need to help my folks with servicing restrooms, but after lunch why don't we do something together, maybe go to the beach and take a swim?"
"Sounds good," I said while following Jeff out of the front door.
After he climbed aboard his Schwinn, he raked a hand through his hair, and I noticed his slightly oversized nose had a few freckles on it. Then, while he pedaled away, I wondered if I'd found someone I could share my summer with.
Purchase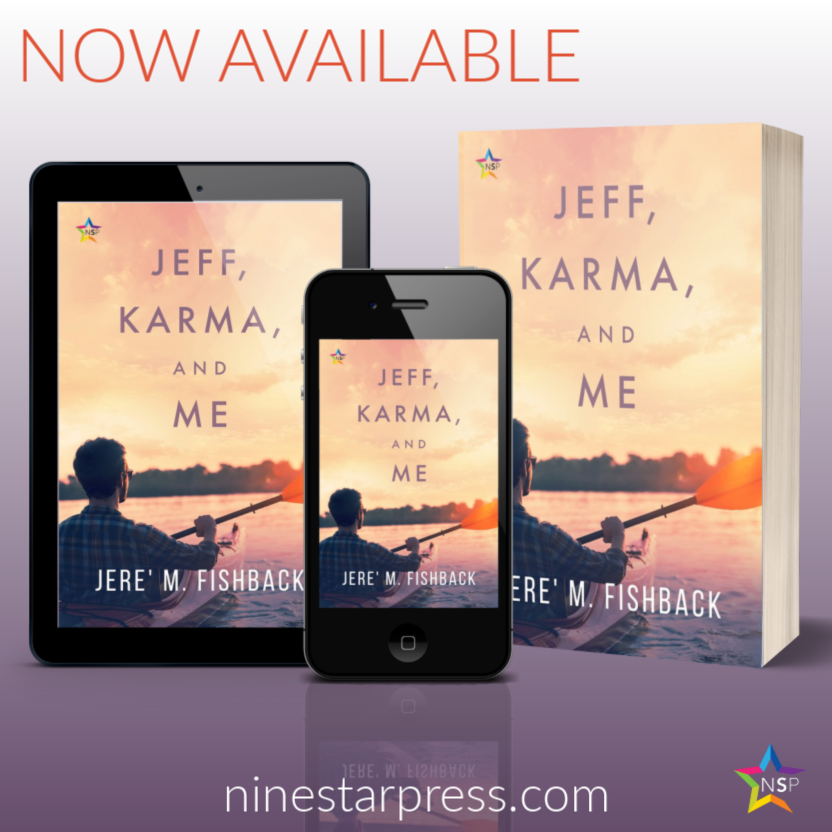 Meet the Author
Jere' M. Fishback is a former journalist and trial attorney. He lives on a barrier island on Florida's Gulf coast, where he enjoys watching sunsets with a glass of wine in his hand and a grin on his face.
Giveaway
a Rafflecopter giveaway