Title: No Parking
Author: Valentine Wheeler
Publisher: NineStar Press
Release Date: February 10, 2020
Heat Level: 2 - Fade to Black Sex
Pairing: Female/Female
Length: 63300
Genre: Contemporary, LGBT, bisexual, asexual, bakery, restaurant, chef, small-town politics, older MCs, interracial, family drama

Synopsis
When Marianne Windmere's bakery customers begin complaining that her parking lot is always full, she assumes it must be customers for the new restaurant next door. She's never met her neighbor, and with the parking lot situation, she has no interest in doing so. But when a snowstorm knocks out the power and traps both women in the building overnight, sparks fly—until the next morning, when the buried argument comes to a head.
Can they find a way to reclaim the magic of that night? And as decades-old secrets about the history of the town and Marianne's family come to light, can they work together to save both their businesses?
Excerpt
The travel mug banged against the counter. Marianne jumped. "Jesus, Kevin! I didn't hear you come in."
"It's full again." Kevin crossed his arms and glared. "The parking lot back there." He made a show of glancing around the nearly empty bakery, eyes pausing on Zeke in the corner, mug in his hands and laptop open as usual, big red headphones covering his ears. He crossed his arms. "Why do you pay that kid if all he does is ignore you? And the customers?"
"You're in a mood this morning." Marianne pushed herself off the stool and grabbed his aluminum coffee mug. Her ex-husband was still an attractive man fifteen years after their divorce, and she couldn't work up the energy to be annoyed at him for it anymore. "If you want to go next door and complain about the cars, go ahead." She filled his mug with hazelnut coffee, added an espresso shot, capped it, and handed it back. "It's not like our customers are beating down the doors for spots right now."
"I did go next door," Kevin grumbled, taking the cup. "It wasn't productive." Now it was him avoiding her gaze.
The parking lot issue wasn't a new one—it had been a problem for a few months—and on a busy day Marianne would be filled with a low-level simmering rage as customer after customer complained about it. Still, she wasn't going to tell Kevin that. Their relationship had improved in the years since their divorce but not quite that much.
"Not productive?" she pressed.
He sipped his coffee to cover the slight flush in his pale cheeks and didn't answer.
"She threw you out, didn't she?" Marianne's estimation of her neighbor and nemesis rose a notch. "You tried to yell at her, and she didn't take it."
"Hm." Marianne put her hands on her hips and considered the man she'd spent nearly twenty-five years married to. He could be charming when he wanted to be—the whole silver fox, sparkling blue eyes and white teeth politician thing—though he never tried it with her anymore. Many women had found him suave and attractive during their marriage and probably still did. But when he wanted something from someone with no interest in what he was peddling? Politeness wasn't his style. Generally, once charm had failed, he whined worse than any of their three kids had as toddlers. She'd learned that plenty during their marriage, and again during the divorce. "I'm sure you were."
"I can talk to Bruce and Andrea," said Kevin. "Just because I'm retired—"
"No need to get the city council involved, Kevin. I'll handle my own property, thanks." She glanced at the clock on the wall, its tarnished brass pendulum swinging below the cracked glass. "Aren't you going to be late for your train?" He was still showing up at transit meetings in the city every other week since he had been appointed to the regional transit board as community representative now that he wasn't an elected official. Kevin had a habit of holding onto things too tightly and refusing to let them go.
Kevin glanced down at his watch and swore. "Yeah. Shit." He took another long gulp of coffee and leaned over the counter to kiss Marianne's cheek. "Thanks. Who knew retirement could be so busy?" He turned to hurry out the door and then stopped and glanced back over his shoulder. "You be good, all right? Don't work too hard."
Marianne rolled her eyes and shooed him out with a towel.
Purchase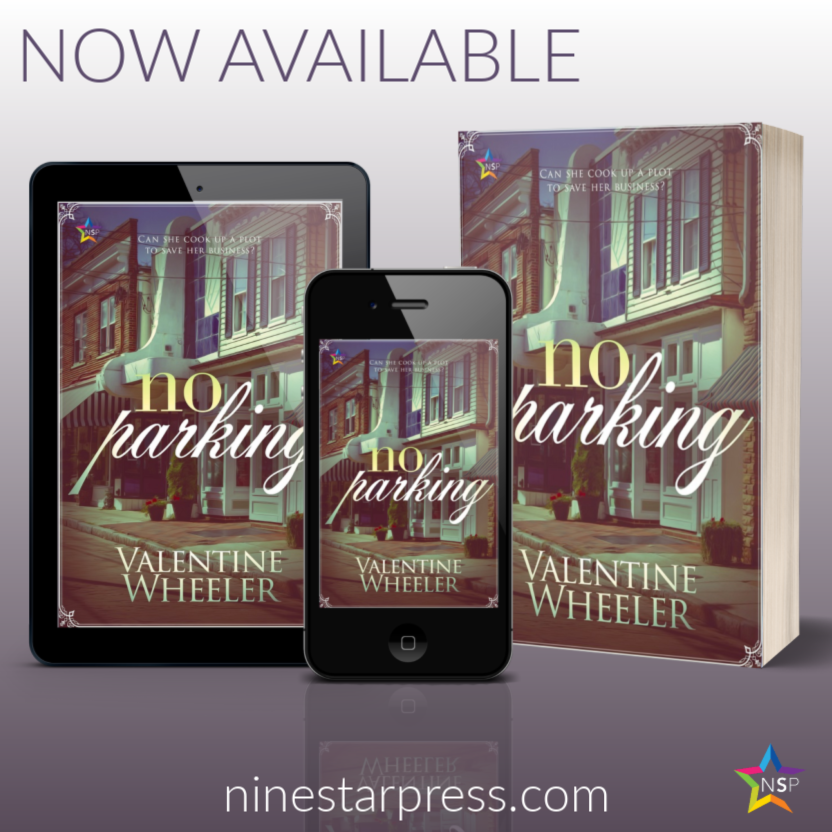 Meet the Author
Valentine is a latecomer to writing, though she's always been a passionate reader. Through fanfiction she found her way to an incredible community of writers who've taught her to love making stories. When she isn't writing, she's making bad puns, yelling about television, or playing with her small child. Her life's ambition is to eat the cuisine of every single country. You can find Valentine on
Twitter.
Giveaway