Title: Severed
Series: Precinct One, Book 1
Author: Shona Husk
Publisher: NineStar Press
Release Date: February 25, 2019
Heat Level: 3 - Some Sex
Pairing: Male/Male/Female (Male/Male interaction)
Length: 79600
Genre: Science Fiction, LGBT, alternate universe, drug use/addiction, law enforcement, dark, dystopia, doctors, wings, menage

Synopsis
Halle Ish, one of Velli's elite police Arrows, is shot down during a Precinct One riot. Wounded and unable to fly, she tries to hide and avoid capture, knowing that if she is found by the razor gangs or Clipper Sect they will sever her wings. She needs to get out of Precinct One.
Avin Lent was once a promising medical student, but he started sniffing Mumble to beat the stress and is now the doctor to one of the biggest gangs in Precinct One—while not part of the Clipper Sect, they are just as dangerous. He knows he is only as useful as his next surgery and they would have no qualms about killing him. Only Jarro is keeping him safe.
Jarro Coblic is deep under cover and has been for a year. Immersed in the gang, he suspects his hands will never be clean again. When he finds the wounded Arrow, he knows he can't turn her over even though everyone is looking for her. With his lover's help, they hide her and heal her wing. All the while, falling for her. He prays Avin will not crumble and reveal their secret as Jarro tries to figure out a way to get them all out of Precinct One before the Sect and the gangs bring the full wrath of Velli on Precinct One. Tearing the place down can't come soon enough, but there will be blood before the slate can be washed clean.
Excerpt
There was blood everywhere. Avin needed to clean the room and his instruments before the next person arrived. Real surgeons didn't work like this. His hands shook as he scrubbed and sterilized. He was tempted to skip that step and let his patients die of infection. But if something happened, he'd start losing toes…another toe. Not his fingers though because he needed them. As long as he was useful, the Tower gang would let him live.
If this was living, this was his punishment.
He mopped the floor. No one else arrived. Perhaps the cops had moved on to a different gang territory. Ever since the Clippers and the Bridge-side gang had attacked the central courthouse in Velli, the cops had been putting the pressure on the gangs of Industrial 13. Which, in turn, put pressure on him. Spending a night sewing up arrow wounds wasn't his idea of fun, yet it was better than the other job they'd once had him doing—cutting women's wings so they couldn't fly anymore. The mop slid out of his hand. His fingers struggled to grab the handle to pick it up.
He'd skimped on the anesthetic for his patients and there were a couple of vials left over. He licked his lower lip, already imagining the slightly sweet tingle as he inhaled what was known as Mumble on the streets.
If the Tower boss knew he stashed it, Avin would be in trouble. But after tonight, he deserved a sniff.
Satisfied the room was clean, even though the scent of blood lingered beneath the cleaning product, Avin opened the fridge. Behind some bags of blood were two small green vials. He'd leave one for later.
He knocked over a bag of blood as he reached in. His hand shook more than usual. How long had it been since he'd last inhaled? A few days at most. The boss was careful to give him just enough to keep him hooked, but not enough to make him useless.
The vial was cold against his palm.
He shouldn't, but he wouldn't sleep tonight without it. He wanted to forget he was even here. If he could go back three years… He cracked the top and got his first scent of Mumble. While he couldn't go back, he could at least numb himself to the reality.
He brought the vial to his nose, the cold plastic against his top lip. Jarro would be annoyed. He wouldn't say anything, but there'd be that look of disappointment in his gray eyes and the clenching of his jaw. It was enough to make Avin hesitate, but only for a moment. Then he inhaled, and the first whiff of Mumble trickled up his nose and into his lungs.
He was no better than an addict. While he didn't pay with money, he still paid in loyalty and blood. He closed his eyes and inhaled the rest of the vial.
With his eyes still closed he took a couple of deep breaths. The drug spread through his lungs, and he felt the exact moment it hit his bloodstream. A cold buzz that took the edge off reality. In a few minutes, he'd have the typical Mumble of a user and the inability to do much more than stumble along with the support of a wall.
He knew the signs and the side effects, and how to use it medically and recreationally. Four years of med school had taught him that. It had also given him the habit. Mumble had helped him sleep after long shifts at the hospital and long days studying.
Avin dropped the vial in the trash with the rest of the waste. Bloodied bandages, arrow tips and shafts, needles and empty tubes of surgical glue. Just another day in Industrial 13. He turned off the lights, his mouth starting to feel pleasantly numb and his muscles loose, and made his way slowly, leaning on the wall, up the stairs to his room.
If Jarro found the extra Mumble in their apartment, he'd go spare.
He'd be asleep before Jarro got home. No doubt Jarro had been busy killing cops. There was too much blood on both their hands. The city-state of Velli would be a better place if Avin let the gang members die on the table.
Maybe if enough died he'd be able to leave. Start again. Get clean. His lips couldn't turn up in a smile, and the laugh that bubbled up sounded more like choking.
His legs gave way and he sat heavily.
This batch was strong; the real stuff, not the cheap shit the gang sold to users. Avin rested his head against the wall; the cracked surface was cool against his temple.
Eyes closed, he let go of reality, happy to float in the numb space caused by Mumble where thoughts drifted past but didn't catch and hold and they had no effect. All the violence and death and blood—he could remember it and see it, but from here it didn't matter. Nothing did.
Footsteps made Avin open his eyes. The heavy tread of a man in boots. It took a couple of heartbeats for him to be able to focus on the black-clad man now standing a few steps below on the staircase and peering at him.
"You've been sniffing again." Jarro frowned. A line of blood marked his cheek, and his dark hair was pulled back into a knot.
Avin tried to speak but his tongue was thick, and his lips didn't obey. How long had Avin been sitting here? A breath, maybe two? From the stiffness of his back as Jarro hauled him up, Avin had been sitting for far longer than a few breaths even if he couldn't reconcile the loss of time
He tripped up the stairs, but Jarro kept him upright so he didn't land on his face or break anything. Mumble also caused stumble. It was funny, but he couldn't laugh or share.
Jarro tugged at Avin's clothes. "You smell like a chop shop."
That's what happens when you spend the best part of the night up to your elbows in blood and guts. Avin tried to help, but he was still too uncoordinated, and his hands got in the way.
"I know why you do it, but if you don't stop, you will die here." There was an edge in Jarro's voice. What had he seen tonight?
Avin glanced up. Jarro made it sound as though there was another choice. There were no options once in the Industrial 13 precinct. No one got out unless as a corpse or sold. No one wanted to live here.
He didn't want to live here, but drug debts weren't easy to clear, apparently. And if he took off, they'd hunt him or his family down, and he had no desire to see his womb brother or his sisters and parents hurt because he screwed up. He'd done enough damage to his family.
Jarro grabbed Avin's shirt and gave him a shake. "Are you listening to me? I don't want to die here."
Was he talking about leaving? Actually leaving.
Sounds bubbled past his lips but didn't make words.
Jarro gave a cold laugh. "Can't argue back when you've been sniffing." He stripped off Avin's shirt and undid his pants, Jarro's touch lingered for a moment. The heat was almost enough to cut through the fog.
What had started as simple protection—pick the roughest, meanest bastard—had become something more. Yeah, Jarro could be cold and he kept more secrets than Avin had seen bodies, but he'd never once hurt him.
It was more than luck. Avin lifted his hand and touched Jarro's cheek. The gesture was clumsy and not the soft touch that he'd intended.
Jarro took his hand and shook his head. "Not tonight. Not while you're dreaming on that shit." But he leaned in and pressed his lips to Avin's cheek.
At that moment, he wished he hadn't caved in to the hollow need of Mumble. What he wanted was Jarro, but he was already pulling away and drawing off his clothes.
"Get a shower, and then we can get to some sleep." Jarro dropped his shirt on the floor. "I'll make sure you don't slip and crack your head open."
Then Jarro guided him to what they called a bathroom. More of a wet room with hot, running water. There was no bath, and the mirror was rusted and cracked. Like everything else here, it was what it was, and no one expected more.
He glanced at Jarro. Except Jarro.
Jarro had crossed city-state borders after pissing off another gang. He'd ended up working for the Tower gang by luck and chance. Ended up in his bed after too much to drink.
But talking of fleeing, again?
Jarro needed to watch his mouth.
Purchase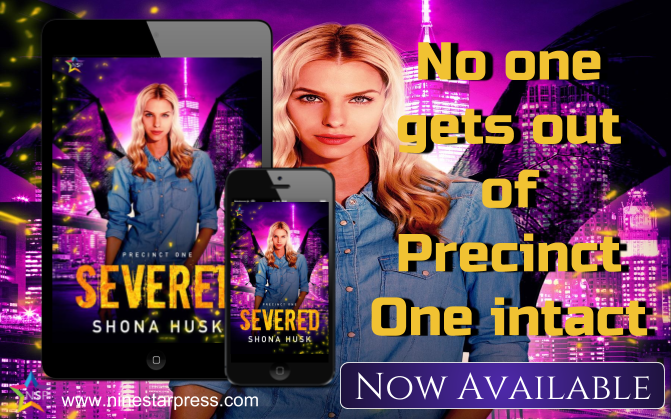 Meet the Author
Shona Husk is the author of over forty books that range from sensual to scorching, and cover the contemporary, paranormal, fantasy and sci-fi romance genres. Her most recent series are Face the Music, Blood and Silver, and Annwyn. As well as writing romance she also writes sci-fi for the Takamo Universe game and urban fantasy under anther pen name.
She lives in Western Australia and when she isn't writing or reading she loves to cook, cross stitch and research places she'd one day like to travel.
Giveaway