Title: Angel's Intuition
Author: Liz Borino
Publisher: NineStar Press, LLC
Release Date: October 8, 2018
Heat Level: 3 - Some Sex
Pairing: Male/Male
Length: 57100
Genre: Contemporary, Contemporary, romance, interracial, military, prisoner of war, Afghanistan, captivity, PTSD, conspiracy
Synopsis
Without explanation, CIA officials pull Agent Aaron "Angel" Collins off a top-secret Afghanistan mission he's spent months preparing for. Due to repeated deceptions, Aaron's husband, Captain Jordan Collins, decides to retire after this deployment.
Major General Troy Hart inserts himself into Aaron's life, somehow getting past his personal barriers and better judgment. When Troy, in his capacity as a high-ranking officer, delivers some devastating news about Jordan, he becomes the only one who supports Aaron's search for the truth. Unbeknownst to Aaron, Jordan and Troy's dark history taints everything about the present.
Jordan awakens in an Afghanistan prison, beaten, ill, and fighting for his life. To get home to his Angel he must put his trust in a woman he was taught to fear.
When the mystery of Jordan's disappearance is solved, another surfaces. Jordan and Aaron's unauthorized search for the truth calls into question everything they thought they knew, until all they trust is each other. But exposing the wrong people threatens to bring their worst nightmares to fruition.
Excerpt
July 2013, Langley, Virginia
CIA Agent Aaron Collins pushed his shoulders together as he strode through the hallway to his supervisor Mick Keller's office and rapped on the door. As if he'd been waiting for him, Keller swung it open. "Come in, Collins, come in. Have a seat. Can I get you a drink?"
"No, thank you, sir," Aaron replied, shifting in the hard, wooden chair. His boss wrung his hands as he circled his large desk. "Is everything all right?" Clearly not, he answered himself. Bosses tended not to call emergency meetings on Friday afternoons to discuss the company's upcoming party.
Keller sat behind his desk and adjusted his glasses. "I need you to brief Foster on the POW situation in Afghanistan. The two of you are switching cases."
Aaron blinked. "My team and I have been working with the military on that mission for months. We're three weeks from deployment."
"Yes, Foster will assume your leadership role."
"Foster? He's a paper pusher!"
"Collins." Keller's voice held a warning.
Yeah, God forbid the agency admits the truth about the competence of their employees. "Sir, he really is not qualified."
"He will be once you brief him. We need you here, Collins," Keller told him.
Aaron tilted his head to the side. "Why do you need a field agent here?"
"You're one of our best."
"And…you're afraid to send me because you have reason to doubt safety?"
"It is a rather volatile situation," Keller hedged.
Of course, it's volatile! The fucking enemies have our men! "What aren't you telling me?"
Keller shook his head. "It wasn't my decision."
"Well, whose decision was it? Have you thought of calling them an idiot?"
"Not all of us have your finesse."
"I'm going there, or you need to give me a reason that I can't, beyond the stuffed shirt above you said so," Aaron said.
Keller removed his glasses and massaged his eyes. "No, that's all the reason either one of us requires. Your job is here for the next three months."
"I have the most information about this mission." Even as Aaron spoke, he knew the battle was over.
"None of us know very much." He sighed. "I'm sorry."
So am I. "Can I still get updates?"
"You know we can't." Keller paused, then added, "He'll be all right, Collins."
They weren't talking about Foster's competence anymore. Now, Keller referred to Aaron's husband, Jordan, an army captain also assigned to this mission. "Of course, he will. I only wish I could help."
"You'll help by training Foster," Keller replied.
Right. "Is there anything else, sir?"
"Thank you." Aaron stood, shook Keller's hand, and walked out of the building after grabbing his messenger bag. He ducked into his car and leaned his head back on the seat. He dialed Jordan's cell.
"Hey, Angel, you done already?" Jordan asked. The perkiness in his voice signaled he did not get the same news today.
And like magic, the sound of Jordan's nickname for him eroded the edges of Aaron's bad mood. "Yep, you?"
"Two beers in at home," Jordan responded. "I've got dinner started."
"See, now I think you're vying to steal my nickname." Aaron started the ignition and put his foot on the brake.
"Never happen. You okay?" Jordan asked.
"Uh…do we have anything stronger than beer, or should I stop?"
"Oh, boy." Jordan's tone grew serious. "We have whiskey, if that will do."
Best you can get in the US. Aaron released a breath. "That'll work. Love you."
"Love you too." Jordan ended the call, and Aaron began the twenty-minute trek home to Maryland.
Purchase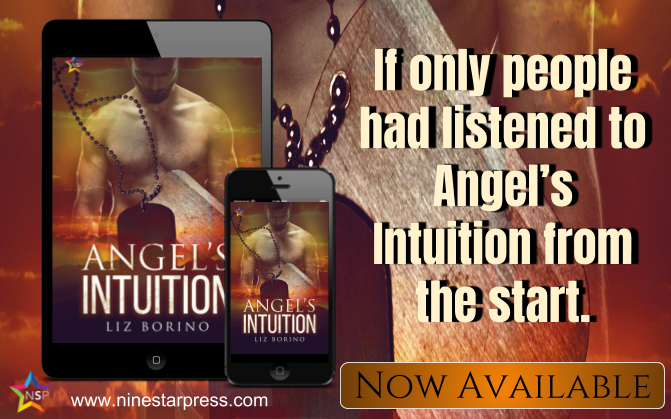 Meet the Author
Liz Borino has been telling stories of varying truthfulness since she was a child. As an adult, she keeps the fiction to the page. She writes stories of human connection and intimacy, in all their forms. Her books feature flawed men who often risk everything for their love. When Liz isn't writing, she's waking up early to edit, travel, and explore historic prisons and insane asylums—not (usually) all in one day. Liz lives in Philadelphia with her two cats and her significant other. Send Liz an
eMail.
Giveaway