Title: Turbo charged
Series: Commitment Series, #5
Author: Karen Botha
Publisher: Self-Published
Release Date: 1st Oct
Heat Level: 4 - Lots of Sex
Pairing: Male/Male
Length: 190 pages
Genre: Romance, mm romance
Synopsis
Can we ever fully experience the good if you don't suffer the evil?
Elliott and Kyle stand to lose everything. A treacherous traitor inside Judd Racing is leaking sensitive information that threatens both their personal and professional lives. The race car driver and the mechanic must find and expose the mole while they also convince their investors to take a leap of faith and trust in their business savvy to help make their dream a reality.
Will their goals be realized or will they go up in flames along with their hard earned cash?
Excerpt
My heart skips, bouncing around the space in my chest, performing a little dance of anticipation. The denim loosens as he peels down my zipper, the draft of the open air caressing my rapidly expanding length as the broad daylight casts over my exposed skin. Without warning, my gorgeous, depraved man lowers his hot lips down, encasing me in the dark, wet cavern of his mouth. The base of my spine zings with life as he sucks his cheeks hollow sending messages which curl my toes, tilt my head and send my heart rate into spasmodic convulsions.
The chance of being caught pushes us to speed up the process and he doesn't let up the intensity of his mouth as his tongue whips over my swollen head, sweeping up the taste of my delicious excitement. He works fast and hard, not ceasing until the pressure builds in a rapid explosion of firepower which launches down the back of his throat. The force leaves me my vision blurred and my body limp, and I spend a moment trying to calm the manic beating in my chest.
"Consider that your starter," he says flicking a finger over the corner of his mouth as I sigh and switch the car into drive.
"If that was the starter, I can't wait to find out what the main course is." I squeeze his hand as I pull down the winding drive and back onto the main highway.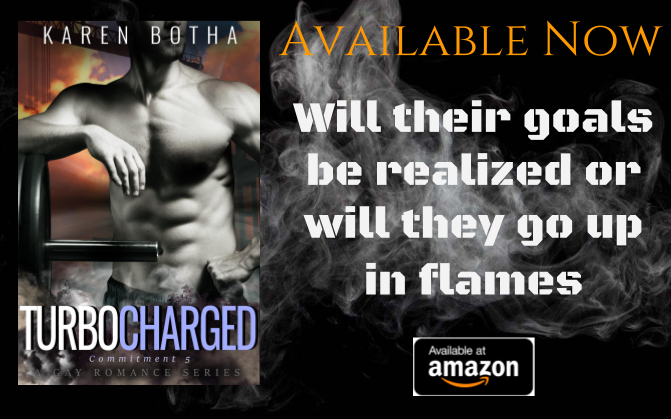 Meet the Author
Ooh, where to start? I used to work in a proper job that was KILLING me -- slowly! I packed it all in and retrained as a massage therapist and reflexologist which meant I had downtime to fill and I knew just the thing.
So, now I spend more hours than I work in my office conjuring up all manner of sex scenes and scrapes. I say I'm so happy because I have whichever imaginary friends with me, doing exactly what I like, when I want. Who could ask for more? Hah!
By the way, now I have NO downtime.
Please follow me, I'm on Facebook and Twitter Twatter and Instagram and I have my own
website, www.KarenBotha.com. It would be great to get some interaction from you guys. Much as I love my imaginary friends, it's great to speak to real people too.
Giveaway