Title: Buckle Up
Series: Commitment 1
Author: Karen Botha
Publisher: Karen Botha
Release Date: September 3rd 2018
Heat Level: 4 - Lots of Sex
Pairing: Male/Male
Length: 237 pages 43800
Genre: Romance
Synopsis
Passion, lust and desire are the fuel that drives us. So, buckle up for the ride of your life.
Elliott Judd is a superstar race car driver and hotter than hell. Men and women fall at his feet and he enjoys the easy pickings. No one has tamed this wild stallion, but is he ready to settle down for the right person?
Kyle Beaumont, a straight mechanic with a body to die for joins the racing team of his dreams, and with his mind fixed on the job, he doesn't realise that he is Elliott's next trophy of choice.
As the racing season and the fight to be the world number one starts, so too does Elliott's game of seduction.
Will Elliott crash and burn, or will Kyle succumb to this gorgeous man's onslaught?
Buckle Up is the first book in a gay romance series by Karen Botha and a story of unlikely love. The series is free on Kindle Unlimited.
Download your copy of Buckle Up now.
A note from Karen
I'd love to hear your thoughts on this and my other series, it's always great to hear what readers say directly. All my contact details are on my Amazon Author Page, feel free to message me.
Excerpt
His forehead is almost touching mine, our mouths millimeters from meeting. I want to pull away before I lose myself, but whatever my mind is saying my body is doing its own thing. My breath is fast and light, my head swimming with unspoken possibilities.
And yet I'm still unprepared. When his mouth covers my lips, it's firm, not an innocent tease, but with his lips tight and unwavering, demanding my response. He's shaved, but still his chin bristles against mine. And he's taller than a woman. I don't have to stoop, and his hair, although long for a man, doesn't tangle in my mouth.
He presses his tongue into the seam of my lips and as they meet, an almighty crescendo cascades down from my head as the pent up tension of the last twenty-four hours releases into the pit of my stomach. It somersaults, my emotions bouncing, my breath catching, mingling with his.
My senses tingle and I don't even realize I've placed my hands on his hips. His muscles ripple as he presses deeper against my body, matching my form on every level. Drunk with desire, my only need is to touch his taut muscles under the formality of his uniform so my hands creep around his back, pulling him into me. The pressure of his heart beats into my own chest. God, he's rock solid. Everywhere.
Meet the Author
Ooh, where to start? I used to work in a proper job that was KILLING me -- slowly! I packed it all in and retrained as a massage therapist and reflexologist which meant I had downtime to fill and I knew just the thing.
So, now I spend more hours than I work in my office conjuring up all manner of sex scenes and scrapes. I say I'm so happy because I have whichever imaginary friends with me, doing exactly what I like, when I want. Who could ask for more? Hah!
By the way, now I have NO downtime.
Please follow me, I'm on Facebook and Twitter Twatter and Instagram and I have my own
website, www.KarenBotha.com. It would be great to get some interaction from you guys. Much as I love my imaginary friends, it's great to speak to real people too.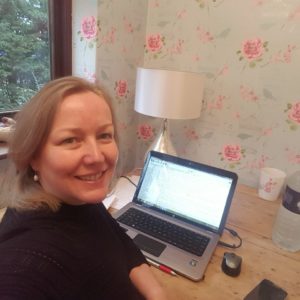 Giveaway