Title: G-Force
Series: Commitment series 2
Author: Karen Botha
Publisher: Self Published
Release Date: 10th September
Heat Level: 3 - Some Sex
Pairing: Male/Male
Length: 230 pages
Genre: Romance, MM romance
Synopsis
Recovered from a life-threatening accident, Kyle Beaumont is a powerhouse who is eager to show Elliott Judd just how far he can push his hotter than ever physique. Their physical and emotional exploits are driven to a depth neither has ever experienced with anyone else.
As a racing driver superstar, Elliott loves handling power, and he's geared up for taking everything Kyle throws his way. In fact, he craves it. But, when the past smashes into their lives, is the couple prepared to handle possibly devastating disruptions?
Set in a world of fast cars, intense love, and a burning desire to win at all costs, this is a love story brimming with unbridled lust. Join Elliott and Kyle as they race their demons to the finish line in hopes of taking home the ultimate prize-their undying love.
Excerpt
Opening the throttle and bracing against the g-force as the power hits, we're riding the crest of exhilaration, holding ourselves upright as the power of the machines sitting between our legs roar to life with the twist of a wrist.
That kiss transports us to another world, where reality is unimportant, replacing it only with the realism of the moment.
The press are like an oil spill, slick and dangerous, spreading.
I'm no longer swimming in concrete. The stresses I didn't realize were affecting me have lifted and I've come up for air. It's like I can see the glow of the world again as the Singapore harbor twinkles below against the backdrop of the ebony night.
I didn't want anything in return today. It wasn't that kind of day. I wanted to show Elliott how much I love and appreciate his devotion by giving.
But, my shaft is rigid and now that he's spent I need some relief.
I stand in front of him and jack off slowly to his gorgeous face. I peel back my foreskin, revealing the head and enjoy the sensation of the cool air as it trickles over.
I'm horny as hell and my orgasm builds as soon as my hand hits my stiff surface. I pull it back and forth, rotating around my head as I push the loose skin over it, lightly twisting and stimulating the thin piece of oh so sensitive nerves which flow from my foreskin to my head.
I'm on fire, and as I stand apart from Elliott not touching him with any part of my body, performing my act of self-pleasure in response to his own, it's one of the sexiest things I've ever experienced. Instinctively he gets it, no fondling, and instead he rubs his cock between his fist, still hard from coming down my throat.
The sight of his hand on his length, still firm from my touch crunches my balls up high. I'm ready to expel in a jet of appreciation and my hand drives fast, my tense bicep working my forearm in long, tight strokes.
A fire pools in my lower abdomen, and as the pulsing between my legs turns into a flood, the earth spins. Lightning grips my palm and strikes electricity from my length. Explosions thunder around my head, my ears ring with the pleasure of being on display in my most basic form for this man whom I love.
Time slows as I pant in air, my body spasming, struggling to relax after such a thundering orgasm.
I collapse against Elliott, our breaths mingling in a kiss before I rest my forehead on his shoulder.
The clock ticks in the background.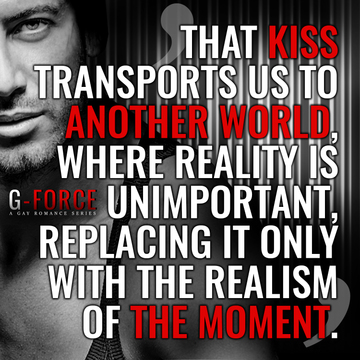 Meet the Author
Karen Botha was born in Lincolnshire England where her father was in the royal air force. As a young girl she always had a passion for reading and writing.
Working most of her adult life in digital marketing didn't leave her much time to pursue her passion for stories. at the age of 36 She retrained for a reflexologist and started working for herself. This helped her free up more than enough time to enjoy a re-found passion for writing.
Her first novel was inspired by true life experiences and tales from clients. But don't believe everything you read.
She enjoys traveling rugby and motor sport, this gives her inspiration and ideas for her books. The first in the new lgbt series is a mm romance novel about a race car driver and his mechanic.
She currently lives in London with her Husband and rescue dog called Shadow.
Giveaway