Title: Concierge Service
Author: P.D. Singer
Publisher: Rocky Ridge Books
Release Date: September 20, 2018
Heat Level: 3 - Some Sex
Pairing: Male/Male
Length: 55K
Genre: Romance, Contemporary, billionaire
Synopsis
Joshua Hannes, the concierge of the Vivaldi Central Park Hotel prides himself on fulfilling every impossible request. Tickets to a sold-out show? A purple dye job for a purse dog? A last-minute table at a premier hotspot? No problem.
But the devastatingly handsome penthouse guest wants what?
Self-made billionaire Craig Ridley's in New York on business, but at the end of the day, he wants to relax with someone interesting. The concierge should be able to supply a friendly face. Just for a little conversation. Dinner and a card game. Not sex with a man he doesn't know or respect.
Craig didn't expect the concierge to personally volunteer. Nor to be the man Craig hadn't known he needed.
A billion reasons why they shouldn't be together. A billion and one reasons why they should.
A smoldering standalone romance with an HEA.
Excerpt
Fed, but caught in the weird limbo of exhausted and wired, Craig paced around his lush temporary domain. Another exploration of the secondary bedroom brought out a detail he'd missed before.
He picked up the towel elephant, trying to figure out how it was put together without unrolling it. Nice. Craig had only asked for one, out of the sheer whimsy of being able to make such a nonsensical request and having it fulfilled. The guy who'd rolled and tucked this little critter into existence had not only left one on the master bed, but had gone the extra mile to leave one in here, too. Thorough.
Craig admired that in a man.
The man himself was easy on the eye, tall and lean, with a shock of brunet hair that would look wonderful tousled, even better than neatly combed.
Which was a thought for the spank bank, and not going to do him a lick of good now.
The spank bank hardly ever had deposits.
Did jet lag do bad things to the brain? Here he was, indulging in a fantasy of a stranger about whom he knew nothing more than the man was thorough. Maybe he couldn't make conversation past the latest celebrity gossip. Or he could have a partner. Maybe the long drought since the last truly interesting man had crossed Craig's path was making his imagination work overtime.
Whatever, it wasn't like he'd have the opportunity to find out, which at least attached to the privilege of skipping the argument over attraction. He'd been called "unbefuckinglievably picky" a few too many times by men he'd found unbefuckinglievably ready to drop trou without knowing one damn thing about him, let alone liking or respecting anything beyond his face and his bank account. Skip that whole mess and the concierge could remain a pleasant thought.
He flicked through four movies, hating each one within a scene or two. He could go out, but that involved shoes. He could play the Steinway, but three rousing renditions of Chopsticks exhausted his repertory.
Anyone he wanted to talk to was two time zones away, probably putting the kids to bed or catching up on the cuddles they'd missed while they were scrambling to get this IPO put together.
Craig hadn't missed any cuddles, or he'd missed all the cuddles from a someone who wasn't part of his life. He needed to meet somebody, like that was possible.
This particular bit of craziness would be over in a week, but the nuttiness that came from running the company and doing the social things that went with running the company weren't going away. Try finding someone who understood that. A fuck buddy didn't get to question it, but Craig doubted he could even get it up for any man he had so little regard for. He could scratch his own damn itches, but if he started talking to himself…
Maybe that was the answer—unwind with one of the toys he'd dragged along from Denver this morning. He unpacked his suitcase, eyeing the bottle of lube. Did hotel guests ever ask the concierge to fetch another bottle, or more toys? Not a request Craig could see himself making.
No, he didn't want to give himself a solitary hand job—he wanted to talk to someone. See a friendly face. Someone who wouldn't accidentally turn the conversation back to equity and shares and total float and lockout time, and how much more would they be worth when… Someone not associated with work. Or his usual life.
He eyed the sleek black house phone on the bedside table.
Naw. Too ridiculous. Too late.
Twenty-four/seven concierge service, whispered the memory of the redheaded twink at Reception. And the concierge on the phone: If you want it, I can get it for you.
Oh, hell. The worst they could say was no.
Purchase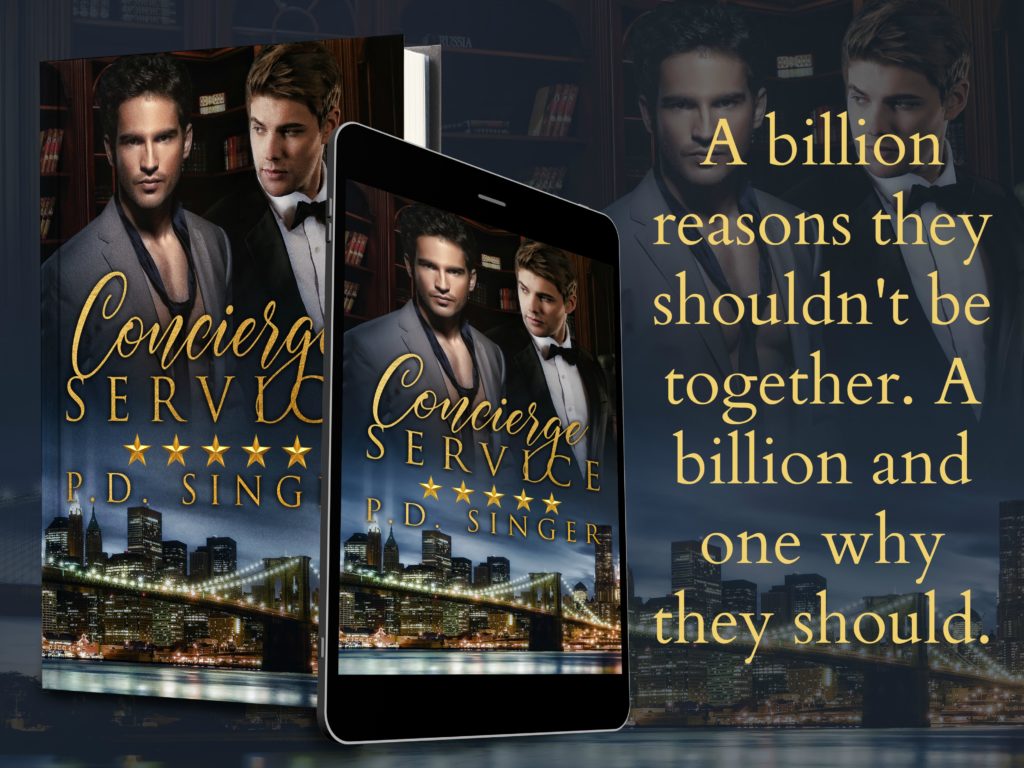 Meet the Author
P.D. Singer lives in Colorado with her slightly bemused husband, one tall young man, half a case of empty nest syndrome, and thirteen pounds of cats. She's a big believer in research, first-hand if possible, so the reader can be quite certain Pam has skied down a mountain face-first, been stepped on by rodeo horses, acquired a potato burn or two, and will never, ever, write a novel that includes sky-diving.
When not writing, playing her fiddle, or skiing, she can be found with a book in hand. Follow the adventures at Pam's website, her Facebook page, Twitter, or drop her an e-mail.
Giveaway